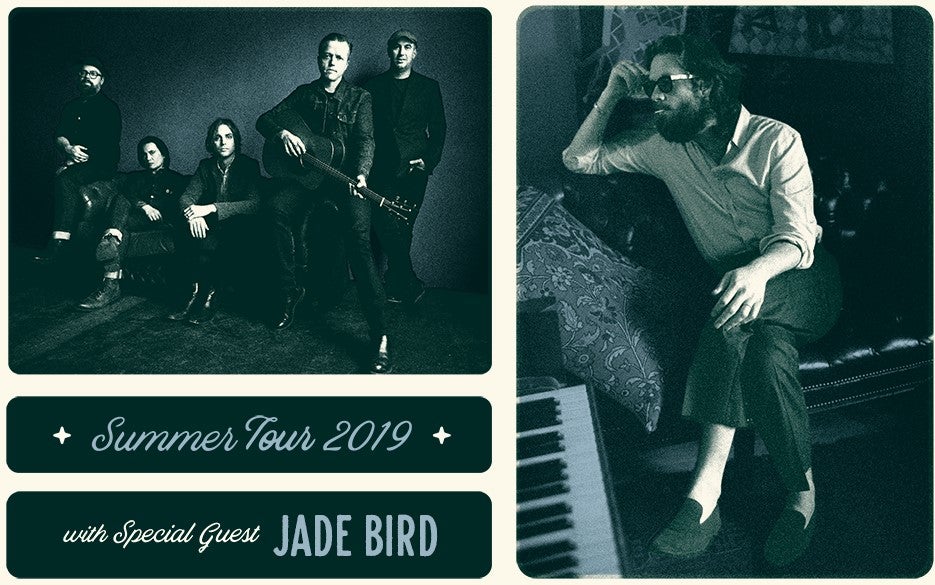 Father John Misty & Jason Isbell and the 400 Unit
with special guest Jade Bird
Father John Misty & Jason Isbell and the 400 Unit
with special guest Jade Bird
Event Information
Set-Times (Subject to change without notice):
7:00 PM – 7:30 PM Jade Bird
7:45 – 8:45 Jason Isbell
9:15 – 10:30 Father John Misty
SEATING INFORMATION
GA PIT AREA
GA PIT Is a standing area only located in front of the stage. Chairs are not provided. Chairs are not allowed in this area.
GENERAL ADMISSION LAWN
General admission Lawn seating starts behind the GA Pit and ends at the Crescent Deck in the back of the venue where the reserved table seats are located. You may bring your own chair (any height). Low Beach chairs may be rented for $5.00 cash at Guest services. For every chair rented we will donate 20% back to The Town of Cary's Play it Forward - Scholarship Fund. Proceeds go towards the fund, which provides scholarships for Parks, Recreation, & Cultural Resources' programs.
RESERVED TABLE SEATS
Reserved Table seats are covered by a roof and are located behind the lawn seats. Numbered tables are 6 seat tables (1-44), 4 seat tables are lettered (A-FF) and are higher pub tables.
A small fee will be added to the prices when paying by credit or debit card. Cardholder must be present with a valid photo ID when paying at the venue Box Office with a credit or debit card. Tickets for Booth Amphitheatre events are subject to applicable taxes and fees. Unless otherwise stated, posted prices include a 7.25% NC Sales & Use tax.
Ticket Limit: 8 Per Person |
* All dates, times, acts & prices are subject to change without notice.
A small fee will be added to the prices when paying by credit or debit card. Cardholder must be present with a valid photo ID when paying at the venue Box Office with a credit or debit card.
Tickets for Booth Amphitheatre events are subject to applicable taxes and fees. Unless otherwise stated, posted prices include a 7.25% NC Sales & Use tax.
GENERAL PARKING: Parking is free of charge in Amphitheatre owned lots. Some local businesses may charge a fee to parking in their lots.
PREFERRED PARKING: A limited number of PREFERRED parking space are available for $10.00 per car in advance or $15.00 on the day of event (cash only).
ACCESSIBLE PARKING: A limited number of accessible parking space are available on a first come first served basis with the proper hang tag or license plate.
PICK UP & DROP OFF: If using a taxi, Uber etc please follow the signs & our Parking Staff to the pick up & drop off area.
Lawn chairs (Any Height okay. NO foot rest or Canopy)
Purses & Backpacks
Rain Coats & Ponchos
1 Bottle of factory sealed water (1 per person)
Small non-professional cameras with no flash
Strollers (Allowed on the lawn only)
All bags, back packs, purses are subject to search.
Balloons, Banners & Signs

Bikes/skateboards/Inline Skates

Blankets, Towels, Mats of any kind or Size
Brochures/Stickers/Handouts
Confetti/Glitter
Coolers
Drones
Fireworks/Sparklers of any kind
Food & Beverages
Go Pros, Audio or video recorders
Grills & Open Flames (inside or outside the venue)
Hula Hoops
Illegal Drugs
Laser Pointers
Pets of any kind (Unless it's a service Animal)
Professional cameras with detachable lenses
Reusable water bottles
Selfie Sticks
Tablets of any kind
Tarps & Plastic sheeting
Tents/Staking
Umbrellas of any size
Weapons of Any Kind (Include but not limited to knives, guns, tasers, chains, studded/spiked jewelry)
Venue concession stands will be open serving a variety of fantastic food and beverages. Food trucks are located on the Lake path. Food trucks scheduled will be posted on our website 48 hours before the event.
Why not Picnic in the Park? Let us pack your picnic! Pre-order dinner and pick it up when you arrive! Orders must be place at least 24 hours prior to the date of the event.
Our Virtual Café offers a variety of food items from appetizers to desserts. Your order will be waiting for you when you arrive on-site at the Amphitheatre! Booth Amphitheatre Picnic in the Park catering partners include Taziki's Mediterranean Cafe, Lowes Foods, Great Harvest Bread Co. and Kale Me Crazy.
Children 2 & under are free on the lawn for this event.
Tickets are required for Children 2 and under for the reserved seating areas when applicable even if they will sit on an adult lap.
Re-Entry is not allowed for this event. Leaving the amphitheatre and re-entering is only permitted in weather related or medical emergencies. If you have a request for re-entry, contact an event staff supervisor at the gate prior to leaving.
Written largely in New York between Summer 2016 and Winter 2017, Josh Tillman's fourth Father John Misty LP, God's Favorite Customer, reflects on the experience of being caught between the vertigo of heartbreak and the manic throes of freedom.God's Favorite Customer reveals a bittersweetness and directness in Tillman's songwriting, without sacrificing any of his wit or taste for the absurd. From "Mr. Tillman," where he trains his lens on his own misadventure, to the cavernous pain of estrangement in "Please Don't Die," Tillman plays with perspective throughout to alternatingly hilarious and devastating effect. "We're Only People (And There's Not Much Anyone Can Do About That)" is a meditation on our inner lives and the limitations we experience in our attempts to give and receive love. It stands in solidarity with the title track, which examines the ironic relationship between forgiveness and sin. Together, these are songs that demand to know either real love or what comes after, and as the album progresses, that entreaty leads to discovering the latter's true stakes. God's Favorite Customer was produced by Tillman and recorded with Jonathan Rado, Dave Cerminara, and Trevor Spencer. The album features contributions from Haxan Cloak, Natalie Mering of Weyes Blood, longtime collaborator Jonathan Wilson, and members of Misty's touring band.
Jason Isbell and the 400 Unit Bio
Jason Isbell and the 400 Unit's new album, The Nashville Sound, is a beautiful piece of American music-making, but watch yourself: it will light a fire under you. "You're still breathing, it's not too late," Jason sings.
This album is a call, and the songs on it send sparks flying into a culture that's already running so hot the needle on the temperature gauge is bouncing erratically in the red. And while it's understandable that, in this moment, some people want their radio to help them drift away, this finely calibrated set of ten songs is aimed right between the clear eyes of people who prefer to stay present and awake. It's a call to those who won't cower no matter how erratically the world turns, and who aren't afraid of what looks back when they look in the mirror. Bruce Springsteen did that. Neil Young did that. Jason Isbell does that.
As with Isbell's 2013 breakthrough, Southeastern, and his double-Grammy-winning follow up, 2015's Something More Than Free, The Nashville Sound was produced by Dave Cobb. Isbell says that he and Cobb created a simple litmus test for the decisions they made in the two weeks they spent at RCA Studios (which was known as "The home of the Nashville Sound" back in the '60's and '70s): they only made sonic moves that their heroes from back in the day could've made, but simply never did. It's a shrewd approach—an honest way to keep the wiz-bang of modern recording technology at arms length, while also leaving the old bag of retro rock 'n' roll tricks un-rummaged. Lyrically, The Nashville Sound is timely. Musically, it is timeless.