Frequently Asked Questions
Are events ADA accessible?
Koka Booth Amphitheatre is happy to offer accessible seating at all our events. If you need assistance please call the box office at (919) 462-2025.
Can I bring in my own cooler with food and beverages?
No, not for all events.
As a rule, outside food and beverages, as well as coolers, are NOT permitted in the venue. However, for a small number of events such as the North Carolina Symphony, there is an exception. Please check the individual event you are interested in for the guidelines that apply.
Can I bring my own lawn chairs?
Yes, you may bring a lawn chair that meets the requirement of our chair types.
Prohibited Lawn Chairs:
Canopy
Footrest
Lounge
Swinging Chairs
Tri-fold
Please remove the chair from the bags at the security checkpoint.
*For Concerts, seats are provided by the venue when "Reserved Seats" are sold. Chairs & Tables are provided by the venue on the Crescent Deck Table seating locations. There is no need to bring chairs for those seating areas.
Rent a Beach Chair: If you don't want to bring your own chair you can Rent a low beach chair at Guest Services for $5.00 (cashless transactions only). For every chair rented we will donate 20% to The Town of Cary's Play it Forward - Scholarship Fund. Proceeds go towards the fund, which provides scholarships for Parks, Recreation, & Cultural Resources' programs.
Can I smoke? What about vaping?
Smoking is only allowed in the designated smoking area located at the gazebo near Gate 3.
Smoking is strictly prohibited in all seating areas including the lawn and pine straw area. This includes electronic/vapor cigarettes.
As of May 1, Koka Booth Amphitheatre is a cashless venue. Less time in line, more time for fun.
Do children need tickets?
The age varies by event. For the majority of events children 2 and under do not require a ticket. It is always best to visit the event page you are attending to verify.
Do I have to pay for parking?
No, there is free parking available in the venue owned lots for most events.
Lost and Found items are located at the Amphitheatre Box Office (next to the main gate) and the Guest Services Tent. All items are kept for 7 days then will be donated if unclaimed. Contact us directly at 919-462-2025 for details regarding lost items. Patrons who find items during an event are asked to drop the item off with Guest Services, with an event staff member, or at the Box Office.
For Concerts, umbrellas of any size are not allowed.
For some events umbrellas are allowed. Events such as NC Symphony series, Movies by Moonlight Series and KBA Event Series. They must be down when the performance starts.
Raincoats & ponchose are allowed for all events.
Please check the individual event you are interested in for the guidelines that apply.
TAILGAITING RULES
Tailgating must be confined to the rear of your vehicle and not interfere with the parking of other vehicles.
Tents and canopies are not permitted.
No grilling allowed in venue parking lots. Due to the risk, no open flame fires, charcoal and/or gas grills are prohibited.
We ask that you help keep the parking lot clean and use our trash cans and recycle bins provided near the venue gates.
All events will go on rain or shine. Please call our weather hotline at (919) 459-8332 for up-to-date information concerning the weather.
Venue policy is no refunds or exchanges in the event of rain.
Please visit our Weather Policy page for more information.
Please review our Bag Policy before attending event.
Koka Booth Amphitheatre has enhanced its public safety policy to include a clear bag policy. Clear bags are easily searched and significantly reduce faulty bag searches. They also support the Department of Homeland Security's "If You See Something, Say Something" campaign. Our goal is to create a safe experience for all guests and staff.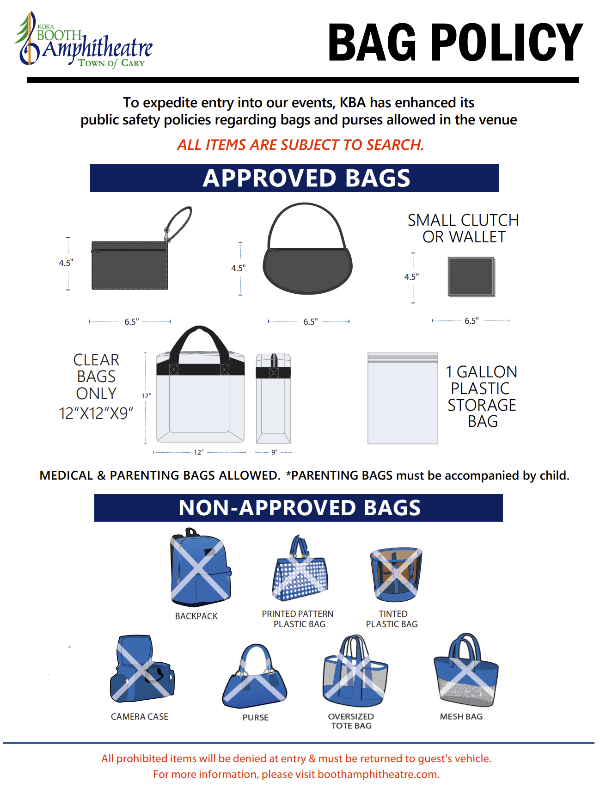 What items are prohibited?
Please refer to the prohibited items drop-down listed on each event page as it varies per event.