Frequently Asked Questions
Do I have to wear a face covering?
Masks are not required when visiting Koka Booth Amphitheatre. This is in line with the lifting of recent mask requirements in Cary. As always, all patrons and guests have the right to make choices that work for themselves and their families.
What COVID-19 safety precautions are you taking for the show?
We have put in place many new health and safety policies for our employees and patrons. Please, take a look at our Health & Safety page to see all the changes at Koka Booth Amphitheatre.
Will the venue staff be responsible and safe around us?
Our staff has been trained on the venue's new health and safety guidelines. All staff members will be wearing face coverings and practicing social distancing when possible.
What is the setup of the venue so we can stay socially distant?
While no longer a requirement, we do encourage guests to maintain social distance while at the venue.
Please, take a look at our new Clear Bag Policy. We have clear bags available for purchase through the Box Office or Guest Services for $10.00 if you are interested in a Koka Booth branded bag!
"Koka Booth Amphitheatre has enhanced its public safety policy to include a clear bag policy. Clear bags are easily searched and significantly reduce faulty bag searches. They also support the Department of Homeland Security's "If You See Something, Say Something" campaign. Our goal is to create a safe experience for all guests and staff."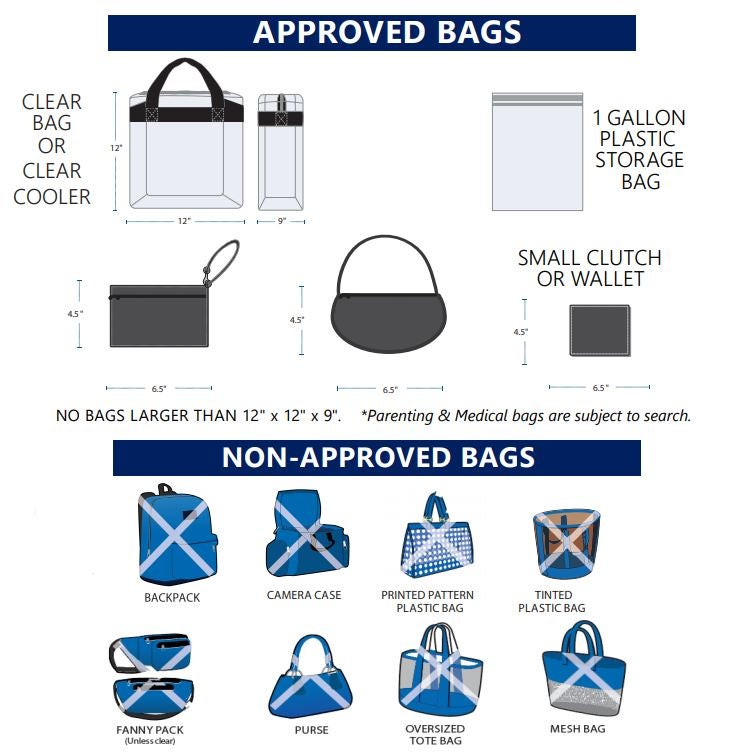 Can I bring my own chairs?
Yes, you may bring lawn or beach chairs to sit in your lawn pod. No footrest, canopy, lounge, or tri-fold chairs. Please remove chairs from bags to go through the security process.
*Tables come with chairs. There is no need to bring chairs for those seating areas.
How big are the pods? Tell me more about them.
All seating is set 6ft apart. Lawn pods are 6ft x 6ft squares spray-painted on the lawn. Each pod and table is clearly marked with either a yard marker or a table marker.
No, you may not combine pods.
Does everyone in my pod need to arrive at the same time?
No, individual tickets will be issued to the ticket purchaser. If you'll be coming in different cars make sure everyone has their individual ticket on their cellphone or has printed it out to be scanned at the gates. Please, print and/or download your tickets prior to arriving. We do encourage carpooling when possible.
Do I have to pay for parking?
No, there is free parking available.
Can I bring in my own cooler with food and beverages?
No, not for all events. As a rule, outside food and beverages, as well as coolers, are NOT permitted in the venue. However, for a small number of events such as the North Carolina Symphony, there is an exception. Please check the individual event you are interested in for the guidelines that apply.
For safety, how will concessions work? What will be available?
Concessions are set up to allow for the social distancing of patrons while in line. Check out our concessions menu here. You are also able to order a picnic from one of our partners, click here for more information.
Yes, umbrellas are allowed for our Movies by Moonlight and Josh Cellars Jazz Series. They must be down when the performance starts.
What items are prohibited?
Please refer to the prohibited items drop-down listed on each event page as it varies per event.
Can I smoke? What about vaping?
Smoking and vaping are allowed in our designated smoking areas found in the Pine Needle Pub and along the lake path.
Please call our weather hotline at (919) 459-8332 for up-to-date information concerning the weather.
Are these events handicapped accessible?
Koka Booth Amphitheatre is happy to offer accessible seating at all our events. If you need assistance please call the box office at (919) 462-2025.
Do children need tickets?
Children 2 and under do not require a ticket to attend events, and are not included in the table/lawn pod capacity. Anyone over the age of 2 needs a ticket.