March

29
Koka Booth Amphitheatre is Pleased to Welcome Guests to the Lowes Foods Front Porch This Season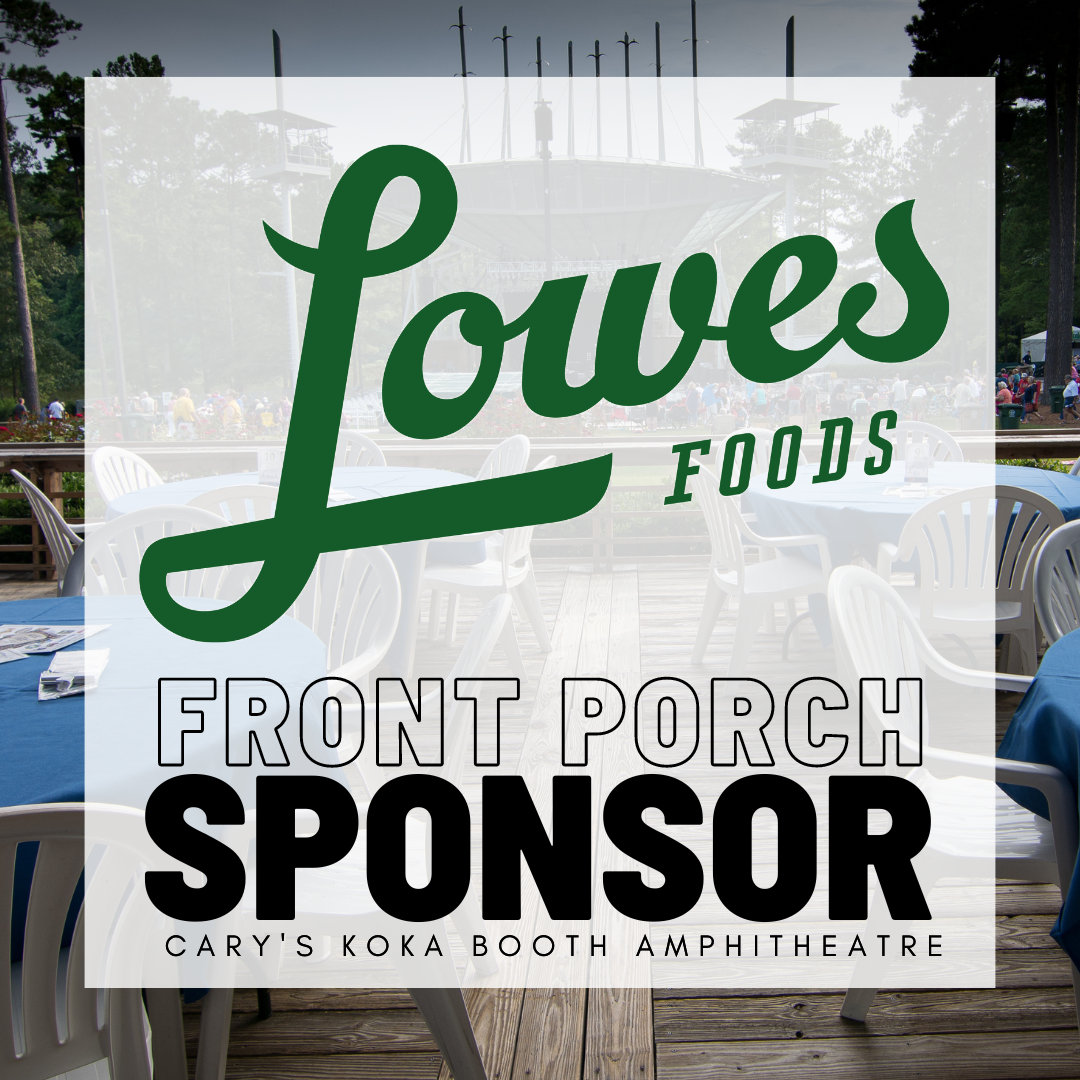 Cary, NC—The start of the 2023 concert season is just days away and this year Cary's Koka Booth Amphitheatre will have some notable changes. The spacious crescent deck will now be the Lowes Foods Front Porch. Features will include rocking chairs, logoed bench seating, stair kickplate art, table naming and more. Through the partnership, the Lowes Foods Front Porch will offer amphitheatre guests an atmosphere that ties together the great history of the venue with the feel North Carolinians experience at Lowes Foods. Additionally, Lowes Foods will be bringing some in-store specialties to Booth Amphitheatre's Picnic in The Park with casual seating and other food offerings.
"We are excited to continue our partnership with Koka Booth Amphitheatre and the Town of Cary. Our company purpose is to bring people back to the table, and we are thrilled to welcome our neighbors in the Carolinas to the Lowes Foods Front Porch to listen to good music with friends or spend time with their family at a festival or special event. We believe in making special memories and the team at Koka Booth does just that," Tim Lowe, President of Lowes Foods.
Saturday, April 1 marks the official start of the 2023 Season at Koka Booth Amphitheatre.
The deal was brokered by SRS Partners, who represents the venue as the exclusive sponsorship agency for Koka Booth Amphitheatre.
# # #
About ASM Global
ASM Global is the world's leading producer of entertainment experiences. It is the global leader in venue and event strategy and management—delivering locally tailored solutions and cutting-edge technologies to achieve maximum results for venue owners. The company's elite venue network spans five continents, with a portfolio of more than 325 of the world's most prestigious arenas, stadiums, convention, and exhibition centers and performing arts venues. Follow us on Facebook, Instagram, LinkedIn and Twitter. asmglobal.com
About Lowes Foods, LLC
About Lowes Foods, LLC Founded in 1954, Lowes Foods employs nearly 9,000 people and operates 81 full-service supermarkets in the Carolinas. Locally owned and operated, Lowes Foods is truly a homegrown company committed to bringing community back to the table, by providing customers with the freshest and most innovative local products from local suppliers. The company maintains a strong focus on exceptional attention to our guests, with services like Lowes Foods-To-Go personal shopping and gas rewards discounts. To learn more, visit lowesfoods.com or follow Lowes Foods on Facebook or Twitter. Lowes Foods, LLC is a wholly owned subsidiary of Alex Lee, Inc.