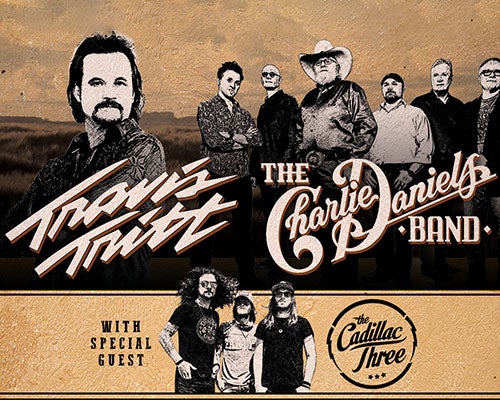 December

7
Outlaws & Renegades Tour: Travis Tritt, The Charlie Daniels Band with Special Guest The Cadillac Three
TRAVIS TRITT - Grammy award-winning artist Travis Tritt is scheduled to perform at Cary's Booth Amphitheatre on May 30. The performance is one of the many stops on Tritt's stateside tour, which has received rave reviews from concertgoers and critics alike.
Tickets on sale at ETIX.COM and BoothAmphitheatre.com.
Nearly three decades after Travis Tritt launched his music career, the Grammy award-winning artist continues to sell out shows and stay true and relevant to Country music fans across the globe.
A Marietta, Ga. native, Travis Tritt is dubbed one of "The Class of '89," which included Country music superstars Garth Brooks, Clint Black and Alan Jackson; all of whom dominated the charts in the early '90s. Among his eleven studio albums and numerous charted singles are nineteen Top 10 hits, including "Modern Day Bonnie and Clyde," "Here's A Quarter" and "It's A Great Day To Be Alive." His career has produced millions in album sales, two Grammy award wins and multiple No. 1 singles on the Country radio charts.
Tritt will appear as a celebrity panelist on the USA Network series REAL COUNTRY, which premiered Nov. 13, alongside Shania Twain and Jake Owen. In each hour-long episode, Twain, Owen, and Tritt will hand-select emerging solo artists, duos, and groups to perform in showcases that spotlight the rich traditions, songs and themes of specific country genres. The best artists from each showcase will perform in a grand finale, for the chance to be named one of country music's next breakout acts.
For more information on Travis Tritt, visit his website TravisTritt.com and follow him on Twitter, Instagram, and Facebook.
THE CHARLIE DANIELS BAND
From his Dove Award winning gospel albums to his genre-defining Southern rock anthems and his CMA Award-winning country hits, few artists have left a more indelible mark on America's musical landscape than Charlie Daniels. An outspoken patriot, beloved mentor to young artists and still a road warrior at age 80, Charlie has parlayed his passion for music into a multi-platinum career and a platform to support the military, underprivileged children and others in need.
His own unique voice as an artist emerged as Charlie recorded his self-titled solo album in 1970 for Capitol Records. Two years later he formed the Charlie Daniels Band and the group scored its first hit with the top ten "Uneasy Rider." Since then the CDB has populated radio with such memorable hits as "Long Haired Country Boy," "The South's Gonna Do It Again," "In America," "The Legend of Wooley Swamp" and of course, his signature song, "The Devil Went Down to Georgia," which won a Grammy for Best Country Vocal Performance by a Duo or Group in 1979 as well as single of the year at the Country Music Association Awards.
TRAVIS TRITT CONTACT: Christy Watkins – AristoPR – 615-269-7071 – [email protected]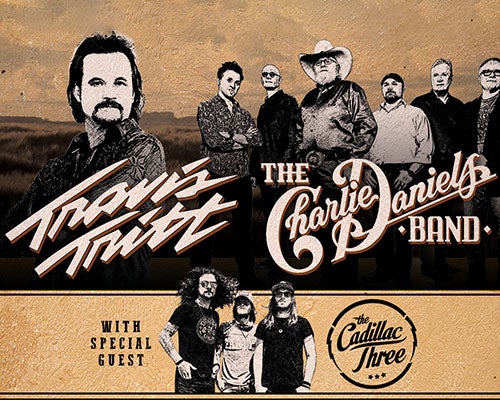 with special guest The Cadillac Three