January

19
North Carolina Chinese Lantern Festival sets New Attendance Record with more than 200K Visitors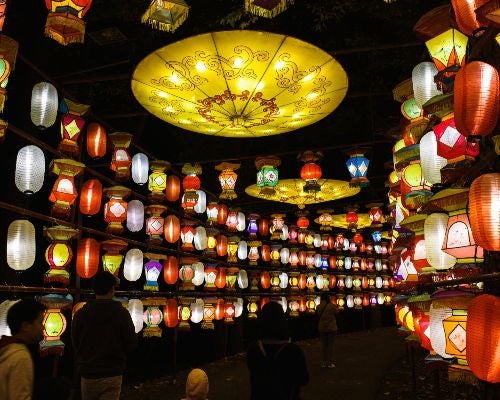 Cary, NC (January 12, 2022)—The North Carolina Chinese Lantern Festival welcomed more than 200,000 visitors this holiday season, setting a new attendance record compared to 121,645 visitors in 2019. The festival was cancelled in 2020 due to the pandemic. Returning to Cary's Koka Booth Amphitheatre for its sixth year, the festival operated daily from November 19, 2021- January 9, 2022.
"The North Carolina Chinese Lantern festival has become a premier cultural event, attracting visitors to Cary from across the State and region," said Harold Weinbrecht, Mayor of Cary. "The festival highlights and celebrates diversity, vitality, and distinction – hallmarks of life in Cary today."
The festival generated more than $5.54 million in direct economic impact according to figures released today by the Greater Raleigh Convention and Visitors Bureau (Visit Raleigh). It is important to note that the $5.54 million is a conservative estimate that does not include spending from local attendees, nor does it include a multiplier of indirect or induced impacts. It represents tourism economic impact only, which is new money coming into the local economy.
Over the seven-week run, visitors flocked to see the magnificently crafted lanterns, each one comprised of meticulously fused metal and hand-painted silks, illuminated from within by thousands of LED lights. New this year was an expanded festival footprint adding more displays and viewing routes. Additional programming, including a Twilight Ticket and VIP Tours, proved popular and added valuable new experiences for patrons.
Tianyu Arts & Culture, the leading producer of lantern festivals in North America and partner in the Cary event, is pleased with the way in which North Carolinians have turned out in record numbers. "It has been our privilege to produce the festival again this year. We are overwhelmed with the community's support and the wonderful feedback we have received," said Ai Luo, vice president, Tianyu Arts & Culture, Inc. "Planning has already begun for our return in the fall of 2022 with all-new lanterns and cultural performances that will continue to delight visitors."
The North Carolina Chinese Lantern Festival will return to Koka Booth Amphitheatre with all new lanterns in November.
About ASM Global
ASM Global is the world's leading producer of entertainment experiences. It is the global leader in venue and event strategy and management—delivering locally tailored solutions and cutting-edge technologies to achieve maximum results for venue owners. The company's elite venue network spans five continents, with a portfolio of more than 325 of the world's most prestigious arenas, stadiums, convention and exhibition centers and performing arts venues. Follow us on Facebook, Instagram, LinkedIn and Twitter. asmglobal.com
About Tianyu Arts & Culture
Tianyu Arts & Culture, Inc. is renowned for creating entertaining lantern and light festivals in U.S. cities and around the world. The company produces beautiful light displays, festivals and exhibits in zoos, botanical gardens, fairgrounds, and public spaces. Tianyu Arts & Culture is the Chicago-based American subsidiary of international design and manufacturing company Sichuan Tianyu, headquartered in the lantern-making capital of the world, Zigong, China. http://tianyuculture.us/
PRIMARY CONTACTS: Teresa Franzen, Publicist, Koka Booth Amphitheatre, (919) 210-5150