April

14
Koka Booth Amphitheatre to Debut Kona Big Wave Club this Season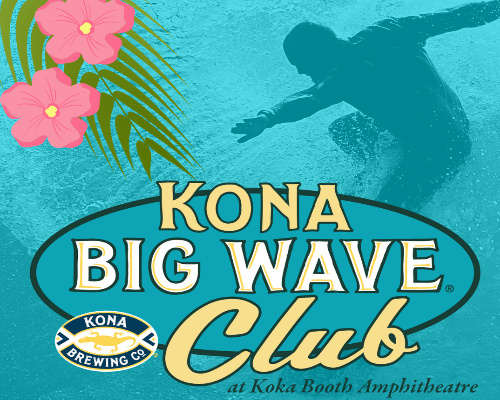 Cary, NC—As the 2022 concert season begins to heat-up visitors to Cary's Koka Booth Amphitheatre will notice some visible changes on the venue grounds. One of the most exciting upgrades is the Kona Big Wave Club, which takes the spot formerly known as the Pine Needle Pub. The inspiration for the new club was born from a renewed partnership between the Amphitheatre and RH Barringer, to spotlight Kona Brewing Company in a reimagined, immersive branded space. While RH Barringer has been a venue sponsor since 2017 in this new three-year deal it will be the first time Kona Brewing Company will have a presence on site.
"When we reflected on the Kona Brewery story, as it relates to being on island time, and slowing down to appreciate the important things, like savoring moments with friends and family, we just knew we wanted to create a space at Koka Booth Amphitheatre where people could do just that", said James Secky – High End Manager–Raleigh/Durham Anheuser-Busch. "With the help of the team at the venue we have reimagined a space nestled in the heart of the action where people can gather and have fun. We view it as a little escape from the rest of the world."
The Kona Big Wave Club will make its debut on April 15th at the Tribute to Legends, the music of Prince show and be open during all Amphitheatre concerts, serving an array of beer and seltzer selections from Kona Brewing Company.
The deal was brokered by SRS Partners, who represents the venue as the exclusive sponsorship agency for Koka Booth Amphitheatre.
---
PRIMARY CONTACTS: Teresa Franzen, Publicist, Koka Booth Amphitheatre,
(919) 210-5150
About ASM Global ASM Global is the world's leading producer of entertainment experiences. It is the global leader in venue and event strategy and management—delivering locally tailored solutions and cutting-edge technologies to achieve maximum results for venue owners. The company's elite venue network spans five continents, with a portfolio of more than 325 of the world's most prestigious arenas, stadiums, convention and exhibition centers and performing arts venues. Follow us on Facebook, Instagram, LinkedIn and Twitter. asmglobal.com.
About RH Barringer What started as an entrepreneurial spark in 1933 spiraled into a fourth generational movement. We work as a family in order to create a family. We focus on continuously building upon our traditions of quality products, service and personnel by genuinely striving for customer satisfaction.
About Kona Brewing Company Since its founding on the Big Island of Hawaii in 1994, Kona Brewing Company has remained deeply rooted in this special place, spreading its foundations of balance, respect for nature, community, and authenticity. Today, Kona brews, distributes, and markets the Kona portfolio outside of the Island of Hawaii to the mainland U.S. and more than 30 countries around the globe. The Kona brand family includes top-selling flagships Big Wave Golden Ale, Longboard Island Lager, and Kona Spiked Island Seltzers. For more information visit www.KonaBrewingCo.com.