February

27
Global Fusion Alchemists Shakti Announce North American Tour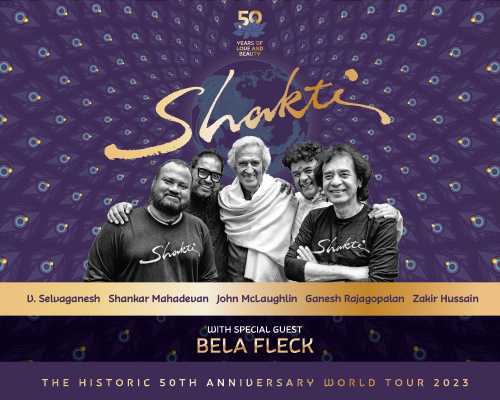 Co-Founders John McLaughlin and Zakir Hussain Lead Current Lineup On First U.S. Tour In 16 Years With Opening Solo Act Multiple Grammy Winner Béla Fleck on the Banjo Cary's Koka Booth Amphitheatre, August 27th. Tickets On Sale, Friday March 3rd at 10 A.M.
Following word of the Summer 2023 release of This Moment – their first new studio album in 46 years – revolutionary world music ensemble Shakti will continue to discover and explore the musical common ground bridging East and West on an extensive U.S. tour that will make a stop at Cary's Koka Booth Amphitheatre on August 27th. Born in the mid-1970s out of the deep artistic and spiritual connection bonding British guitarist John McLaughlin and Indian tabla player Zakir Hussain, Shakti's cross-cultural musical conversation dissolved boundaries with uncommon passion, grace, and dexterity – awakening subsequent generations of musicians to the possibilities of such hybrids in the process. Alongside McLaughlin and Hussain, today's Shakti features renowned vocalist Shankar Mahadevan, violinist Ganesh Rajagopalan, and percussionist Selvaganesh Vinayakram (son of original Shakti ghatam player T.H. "Vikku" Vinayakram).
Looking ahead to the performances, McLaughlin equates the endeavor to a homecoming of sorts. "Shakti was born in the USA in 1973," he reflects, "and is also no stranger to American audiences. We've played concerts all over the US from coast to coast and north to south – and everywhere we've played, we've had wonderful audiences."
Joining Shakti on more than half of the dates will be another performer dedicated to intermingling and transcending genres, Béla Fleck, who will open the performances with a solo set. "Hearing Shakti was a revelation and I started listening right when they started," Fleck recalls. "Something about Shakti, and also making music with Zakir, was very relatable – perhaps akin to the acoustic guitar and fiddle. But it wasn't until playing with Zakir and Edgar Meyer [on 2009's Melody of Rhythm: Triple Concerto & Music for Trio] that I started having more of a sense of what they were up to. Keeping in mind the virtuosic and energetic level of the band, I'll be attempting to create a solo set that mesmerizes and excites." "Béla Fleck is truly a fine musician whom I've admired for decades," McLaughlin says.
With the recording of their new studio album now complete, the members of Shakti now await the opportunity to continue their pan-global dialogue. "In our initial incarnation," Zakir Hussain concludes, "we did not always have the time nor the means to explore. Now, with the decades of individual musical experiences we all have poured into this, the result reveals an extraordinary depth and level of interaction within this band."
Tickets go on sale Friday, March 3 at 10 a.m. at etix.com.