October

3
Cary's Koka Booth Amphitheatre to host the NC Chinese Lantern Festival Through 2028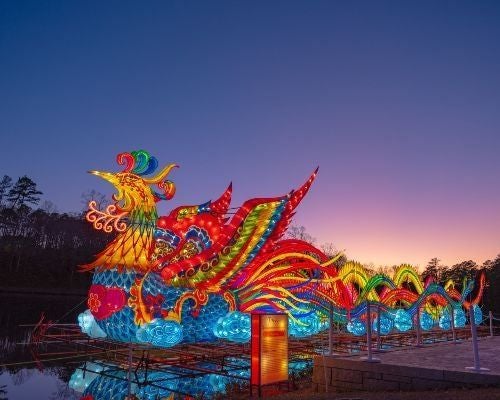 Cary, NC—Cary officials are excited to announce Koka Booth Amphitheatre will be home to the North Carolina Chinese Lantern Festival through 2028. The festival began in 2015 and has grown significantly in scope and attendance each year. In 2021 the event welcomed more than 200,000 visitors, setting a new attendance record.
"Following on the heels of record-breaking attendance, we are thrilled to continue our partnership with Tianyu Arts & Culture," says Cary's Mayor, Harold Weinbrecht. "The NC Chinese Lantern Festival is one of Cary's most highly anticipated and beloved cultural festivals for residents and visitors alike."
The festival's seven-week run, which begins in November and ends in January, has become a tradition for many families who come to see the magnificently crafted lanterns, each one comprised of meticulously fused metal and hand-painted silks, illuminated from within by thousands of LED lights. The 2021 program featured an expanded footprint with more displays and viewing routes. In addition to the displays the festival includes cultural arts performances nightly.
Tianyu Arts & Culture, designers of the lanterns, and the exclusive partner in the Cary event, said the decision to extend the contract for seven years was easy. "Our partnership with the Town of Cary to produce the festival has been a source of great pride for our team as we have all experienced its amazing growth into a world-class event," said Ai Luo, vice president, Tianyu Arts & Culture, Inc. "We are excited to continue our partnership through 2028, because we want to make it a local holiday tradition, and it will offer opportunities to expand our creativity and delight visitors to North Carolina."
The North Carolina Chinese Lantern Festival will return to Koka Booth Amphitheatre with all new lanterns in November.
# # #
About ASM Global
ASM Global is the world's leading producer of entertainment experiences. It is the global leader in venue and event strategy and management—delivering locally tailored solutions and cutting-edge technologies to achieve maximum results for venue owners. The company's elite venue network spans five continents, with a portfolio of more than 325 of the world's most prestigious arenas, stadiums, convention and exhibition centers and performing arts venues. Follow us on Facebook, Instagram, LinkedIn and Twitter. asmglobal.com