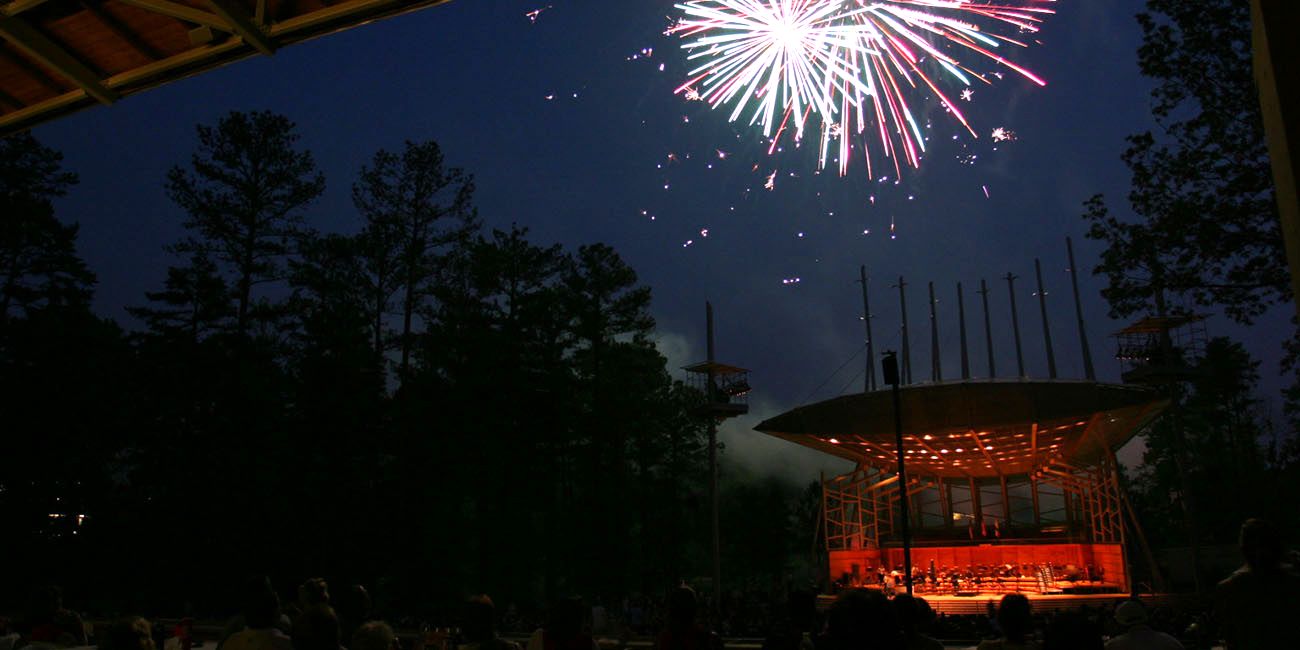 The Town of Cary Presents: Independence Day Celebration
The Town of Cary Presents: Independence Day Celebration
Event Information
GENERAL ADMISSION: FREE
A Triangle tradition is BACK! Join us for a salute to the red, white, and blue as we honor the birthday of the U.S.A. with patriotic high-spirited classics and favorites featuring a DJ, The Cary Town Band, and the North Carolina Symphony. Don't miss the spectacular Fireworks display over Symphony Lake immediately following the performance by the North Carolina Symphony.
For SMS Alerts please text JULY to 51597
NOTE: Purchasing a table will offer a view of the performances but does not guarantee a clear view of the fireworks. Fireworks may be obstructed by the tree canopy, the stage, or other structures.
For this event, guests are allowed to bring in food, and beverages (including beer and wine).
Concessions will be open selling a varierty of food and beverages during each event. You can see a list of offerings on our Crescent Cafe menu.
Restaurant partners will be available to pre-order food and have ready upon your arrival. Order from one of our Picnic in the Park partners!
We pride ourselves on bringing a wide variety of events to Cary, NC! What our guests are allowed to bring into each event varies from event to event.
Here is what you may bring to the Indepedence Day Celebration event:
Coolers*
Food
Alcoholic Beverages (No Liqour)
Lawn Chairs

No Footrest, Canopy, Lounge, Tri-Fold or Swinging Chairs.
Please remove the chair from the bags at the security checkpoint

Blankets & Towels
Bags/Purses*
Ponchos
Strollers
Umbrellas
Reusable bottles/Cups

Water fill stations located near restrooms.
All bags & coolers will be searched.
*While KBA prefers all guests bring 12" x 12" x 9" clear bags and/or coolers, small purses no larger that 4.5" x 6.5" for THIS event we will allow all coolers and bags.
Prohibited items will need to be returned to guests' vehicle before entering.
Please leave the following items at home:
Balloons, Banners & Signs
Brochures/Stickers/Handouts
Confetti/Glitter
Drones
Fireworks
Go Pros, Audio or video recorders
Grills & Open Flames
Illegal Drugs
Laser Pointers
Liquor
Mats of any kind including yoga mats
Noise Makers
Pets of any kind (Excluding service Animal)
Professional cameras with detachable lenses
Sporting equipment
Tarps, Plastic sheeting
Tents/Stakes
Weapons of Any Kind (Include but not limited to knives, guns, tasers, chains, studded/spiked jewelry)
PARKING LOTS OPEN AT 2:30PM
GENERAL PARKING: Parking is free of charge in Amphitheatre owned lots. Some local businesses may charge a fee to park in their lots.
PREFERRED PARKING: A limited number of PREFERRED parking spaces are available for $20.00 per car in advance or $20.00 on the day of event if spaces are available.
ACCESSIBLE PARKING: A limited number of accessible parking spaces are available on a first come first served basis with the proper hang tag or license plate.
DROP OFF & PICK UP: If using a ride share company please follow the signs & our Parking Staff to the drop off & pick up area.
PLEASE REVIEW ROAD CLOSURES:
The intersection of Ederlee and Avenue of the Estates and the traffic light at Ederlee & Regency Pkwy will be closed starting at 8AM on July 4th.
The section of road from Regency forest and the traffic light at Ederlee & Regency Pkwy will close at 6:00PM.
After 6:00PM all incoming traffic will be re-routed out to Tryon Rd:
Take a Right on Kildare Farm Rd then,

Right on Penny Rd, then

Right on Ederlee then

Left on Regency Parkway
Please follow signs and traffic direction from Cary PD and KBA parking staff.
3:30pm: Gates Open
3:30pm: Music/DJ Bri Ryder Entertainment
5:20pm: The Scouts Present the Red, White & Blue
5:30pm: Cary Town Band
7:25pm: A Message From Mayor Harold Weinbrecht
7:30pm: The North Carolina Symphony
9:25pm: Fireworks
For SMS Alerts please text JULY to 51597
Have kids? Stop by one of the "Lost Child" stations at Guest Services, Cobblestone Courtyard or Gate 3 to get wristbanded.