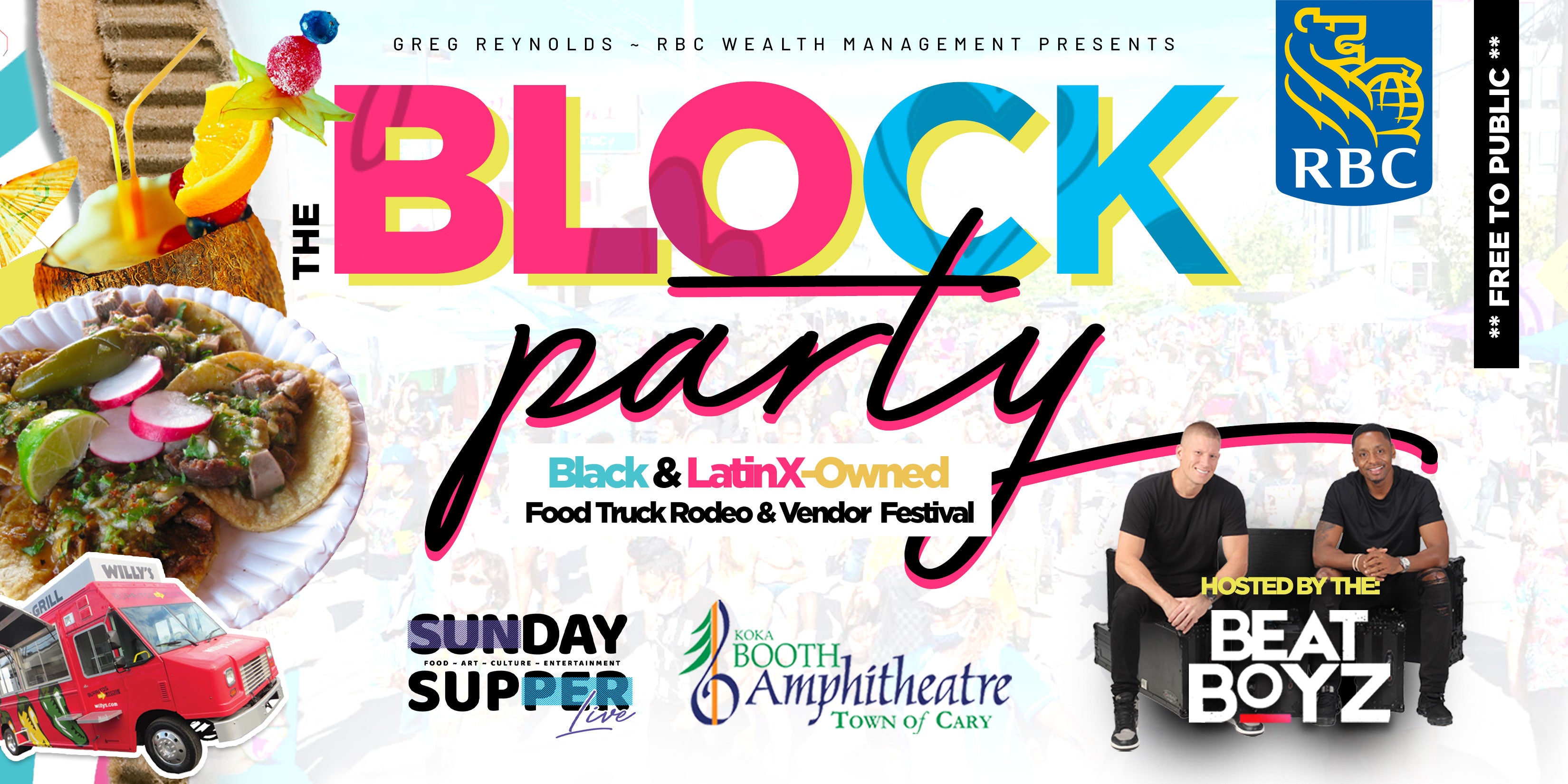 The Block Party
Presented by Greg Reynolds ~ RBC Wealth Management
The Block Party
Presented by Greg Reynolds ~ RBC Wealth Management
Event Information
Join Sunday Supper. Live! in support of Minority-owned Food Truck, Retail & Dessert Vendors who have been disproportionately impacted by the pandemic. The Food Truck and Vendor Festival is expected to draw over 3500 Triangle-area residents to attend one of this year's biggest Food Truck Rodeos to date. Join us for great food featuring some of RDU's tastiest trucks and vendors offering the best in hand crafted and culturally significant wares.
See below for a list of Food Trucks & Vendors (*Subject to change without notice)

This event will take place in the Koka Booth Amphitheatre parking lots located in front of the Box Office & Main gate.
Admission to the The Block Party-Food Truck Rodeo is FREE with pre-registration.
LOVE LIVE MUSIC? Then join us from 5-8pm for Sunday Supper. Live! "Battle at the Booth," a head-to-head concert experience featuring local RDU favorites Niito, Tish Songbird and others. This event will take place inside Koka Booth Amphitheatre, purchase tickets here.
All events are rain or shine.
Rain coats and ponchos are allowed for all events. Umbrellas are not allowed for most events. Please check the Items Allowed/Prohibited on the specific event page you are attending to see if umbrellas are allowed.
In the event of severe weather conditions (thunder/lightning, etc.) announcements will be made from the stage concerning the status of the event due to weather conditions. We ask all patrons to remain calm and listen for these announcements.
Information will be posted on the Amphitheatre Facebook and Twitter pages, at www.boothamphitheatre.com or call our weather Hotline at 919-459-8332 for updates before & during the event.
In the event of a weather delay please listen for the air horn in the parking lot as signal it is safe to re-enter the venue. Please keep your ticket & have it ready when re-entering the gate. Venue policy is no refunds or exchanges in the event of rain.
About Sunday Supper Live!
Launched in 2021, Sunday Supper. Live!, a Black-owned and operated venture was formed by a group of professionals with backgrounds in entertainment, business, and art. We joined forces to establish a network of, and build a platform for, Black entrepreneurs, creators, and artists who were devastated by the effects of the Pandemic. We use our experience, passion, connections, and influence to build a legacy, not only for us, but also our community.
Food Trucks listed are subject to change without notice.
Ama'Gees Jamaican food
BBQN4U
Big C's Waffles
Bull City Eatery
Chic-N-Que
Coco Crissi Italian Iceee
Fancy Faye's Meal on Wheels
Favor Desserts
Fired UP Pizza and BBQ
Frutas La Hormiguita
Funnel Cakes by Antonio
Jollys Catering and Events
Jones Lemonade Slushy
Justo's Grilling & Catering
Lawrence & Perry Barbeque
Levy's Jerkstand
Magnificent Concessions LLC
My taste of caribbean
Oink N Moo
Palm Treez Smoothies
Sunshine Slushies
Sweet Treats of NC
The Candi Queen, LLC (BFM)
The Smoke & Jerk
The Walking Crab
Utensilz Optional
Yum Stop
Z'z Zar B Q & Turgerz
Booth Amphitheatre prides' itself on bringing a wide variety of events to Cary, NC! What our guests are allowed to bring into each event varies from event to event. Please review each event page before attending each event!
Guests can bring the following items to this Festival:
Bags/Purses
Factory sealed bottles of water
Lawn chairs
Rain Coats
Ponchos
Small non-professional cameras with no flash
Strollers
Prohibited items MUST be returned to guests' vehicle before entering.
Please leave the following items at home:
Balloons, Banners & Signs
Bikes/skateboards/Inline Skates
Blankets, Towels, Mats of any kind or Size
Brochures/Stickers/Handouts
Confetti/Glitter
Coolers
Drones
Fireworks/Sparklers of any kind
Food & Beverages
Go Pros, Audio or video recorders
Grills & Open Flames (inside or outside the venue)
Hula Hoops
Illegal Drugs
Laser Pointers
Pets of any kind (Unless it's a service Animal)
Professional cameras with detachable lenses
Selfie Sticks
Sporting Equipment
Tablets of any kind
Tarps & Plastic sheeting
Tents/Staking
Umbrellas of any size
Weapons of Any Kind (Include but not limited to knives, guns, tasers, chains, studded/spiked jewelry)
Register for The Block Party
Admission to the The Block Party-Food Truck Rodeo is FREE with pre-registration.
Vendors listed are subject to change without notice.
AccesoRISE
Blac Chill
BLK Directory
Bluestash, Inc.
Bullcity Imported Oils (BFM)
Creativ3 Journey LLC
Dream City Scents
Earth Essentials (BFM)
Exactly Chic Boutique
Fashionably Favoured Boutique, LLC
Gift Craft Collection LLC
Goodefellaz Familia
Grand Diva Locs & Bling
High Skool Inc.
Iconic EyeCandy
Love + Flour (BFM)
Loyal Royalties (BFM)
Mamie J'z Boutique
Nefertari's Gift
New Wave Fashion
Our Heritage Creations
Right Moves Dance Studio
Sunkissed Valley Boutique
The Geee Spot
The Stick Pick
Tucy(two spaces)
Woke Living Coffee
Breweries on site for The Block Party include:
Bond Brothers
Bombshell Brewery
HiWire Brewery
Foothills Brewing
Breweries subject to change without notice.