Shakti: 50th Anniversary Tour
Zakir Hussain, John McLaughlin, Shankar Mahadevan, V.Selvaganesh and Ganesh Rajagopalan with Special Guest Béla Fleck on the Banjo
Shakti: 50th Anniversary Tour
Zakir Hussain, John McLaughlin, Shankar Mahadevan, V.Selvaganesh and Ganesh Rajagopalan with Special Guest Béla Fleck on the Banjo
Event Information
A Transcontinental Musical and Cultural event that brings the giants of Jazz, Indian and Bluegrass music together on one special evening.
Pioneering ensemble Shakti is coming to Koka Booth in Cary with four of the world's greatest Indian musicians: Ustad Zakir Hussain on the tabla, Bollywood singer Shankar Mahadevan, high energy Carnatic drum legend Selvaganesh Vinayakram on the mridangam, kanjira, and ghatam, and violin prodigy Ganesh Rajagopalan -- alongside legendary Grammy-winning fusion guitarist John McLaughlin. Special guest Béla Fleck, a 14-time Grammy-winning banjo virtuoso, will open the performance. Do not miss your opportunity to see all of these legends on one stage and celebrate the music of India, the USA, and the world.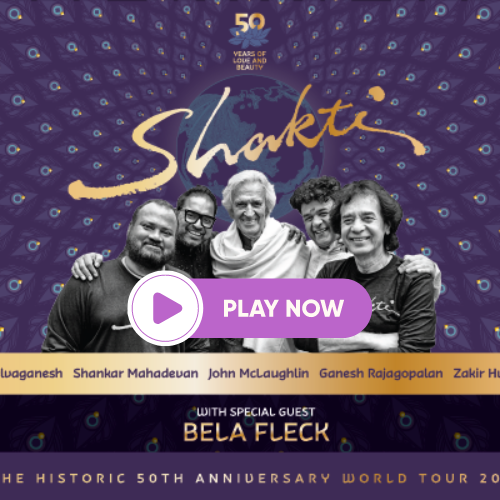 Additional Ticket Information
Koka Booth Amphitheatre is a cashless venue.
Event pre-sale tickets are available online only.
Children 2 and under are free on the lawn for this event and do not need a ticket.
All ages will require a ticket when sitting in Reserved Areas.
The Box Office is open for limited hours during the week. Please check out the Box Office page for normal hours of operation.
Day of Event Box Office sales opens 1 hour prior to gate time and closes once the main act takes the stage.

Hours are subject to change.

Taxes: Tickets for Koka Booth Amphitheatre events are subject to applicable taxes and fees. Taxes will be added on top of the posted ticket prices.
Fees:

When ordering Online or by Phone through Etix additional fees will be added on top of the ticket price. A $2.50 order fee will be added to each order.
When purchasing in person at the Box Office a 3% processing fee, plus taxes will be added on top of the ticket price.
*All dates, times, acts & ticket prices are subject to change without notice.
We have enhanced our public safety policy to include a clear bag policy. Our goal is to create a safe experience for all guests and staff.
Allowed:
Small clutch purse or wallet no larger than 4.5" x 6.5" (about the size of a hand).
Clear bag that does not exceed 12" x12" x 9".
Medical and parenting bags.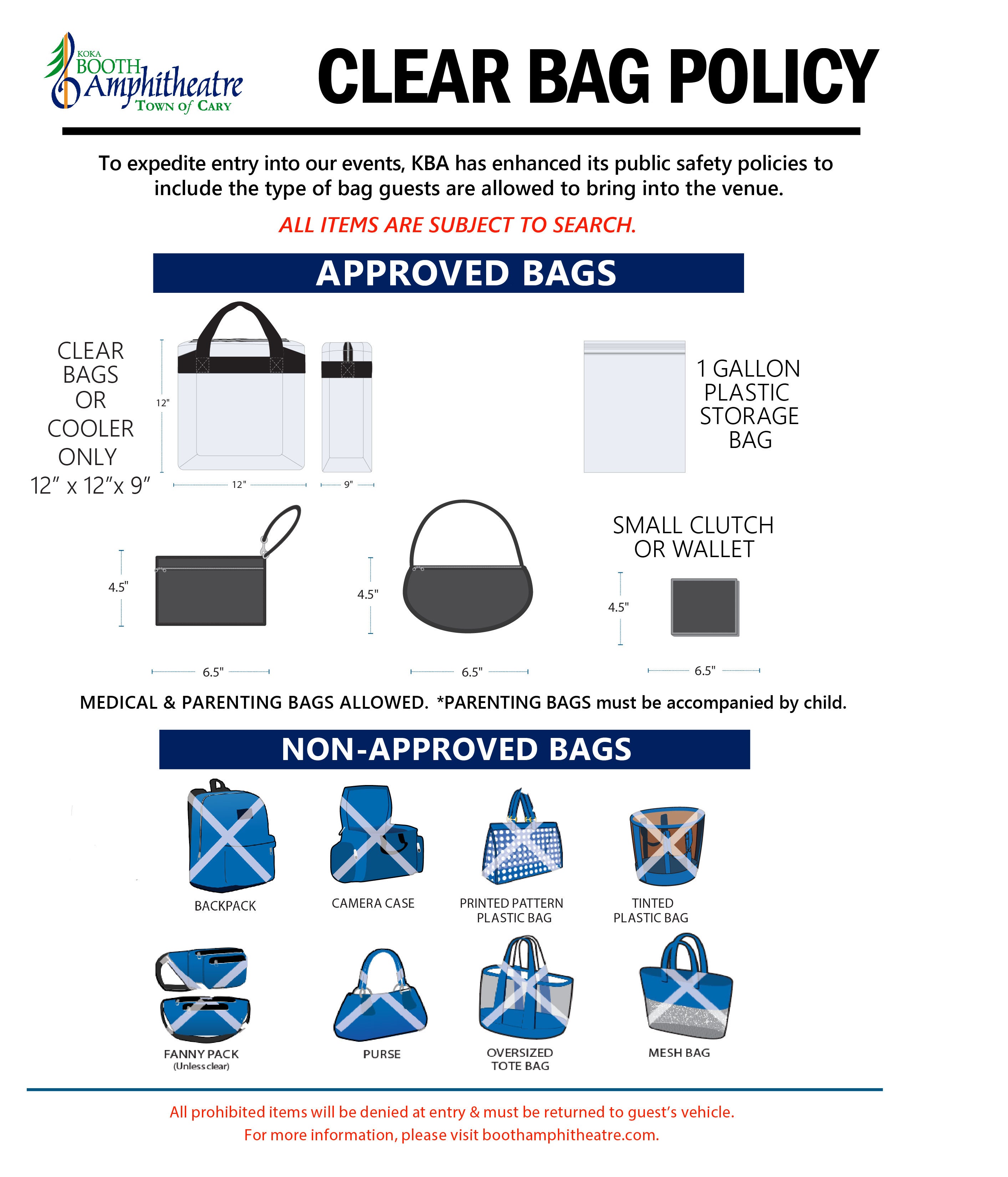 Almost a half-century ago, Shakti startled the musical world…and in 2023, their journey continues.
An unprecedented transcontinental collaboration, Shakti united Eastern and Western musicians, and in the process forged the template for what is now called World Music. Their dynamic musical hybrid immediately enthralled audiences around the globe – and inspired generations of musicians, artists, and thinkers from all walks of life to embark on their own cross-cultural odysseys.
From the West came virtuoso British guitarist John McLaughlin, who arrived in New York in 1969 and immediately re-wired jazz via his work with Miles Davis and the Tony Williams Lifetime, of which he was a founding member. From the East came visionary tabla player Zakir Hussein, who had been performing with giants of Hindustani music since he was a child as the son of Ustad Alla Rakha – one of tabla's greatest exponents, often seen accompanying sitar icon Ravi Shankar. A music shop owner in Greenwich Village connected the two, with Hussain giving McLaughlin lessons in Indian music that, over time, blossomed into jam sessions that started the pair on the path to what eventually became Shakti. "There wasn't a first meeting," Hussain recalls today. "It felt like a reunion of long-lost brothers…"
By 1973, McLaughlin's pioneering jazz/rock fusion ensemble Mahavishnu Orchestra had achieved Olympian popularity and acclaim…and yet, something else was calling out to McLaughlin – a music that reflected his evolving spiritual practice while feeding his insatiable hunger to converse, communicate, and explore. Inspired by those initial sessions with Hussain, McLaughlin stunned the world by walking away from Mahavishnu and joining Hussain, violinist Shankar, and ghatam player T.H. "Vikku" Vinayakram alongside McLaughlin.
"It was a phenomenal experience," McLaughlin says of those early jams. "But [record label] CBS, they all thought I was a bit crazy…but for me, it was an imperative that Shakti become my permanent group after the Mahavishnu Orchestra." Together the members of Shakti honed an ecstatic new musical fusion, blazing uncharted pathways and demonstrating the potential of such global composites to generations of musicians around the world.
Shakti's original lineup disbanded in 1978, and for two decades each of the musicians pursued their own highly successful careers. In the late '90s, the band reformed with Shankar Mahadevan on vocals, U.Srinivas on mandolin and Selvaganesh Vinayakram replacing his father Vikku alongside McLaughlin and Hussain – bringing another creative dimension to an ensemble that was already considered one of the best groups in the emerging world music genre.
After the tragic loss in 2014 of Mandolin U. Shrinivas, Shakti once again ceased to perform. However, in early 2020 the group once again reconstituted itself, convening with violinist Ganesh Rajagopalan for two sold out concerts – the first one in Kolkata, India on January 14, 2020 and the second one in Singapore on January 16, 2020. These events were a catalyst in the renaissance of Shakti, with this new formation continuing to perform together for special events and bring the magic of Shakti once again to the public.
Now McLaughlin and Hussain – still flanked by Mahadevan, Selvaganesh, and Rajagopalan – are poised to reunite for a studio album of new compositions and a world tour to mark Shakti's 50th anniversary. Today's Shakti honors the legacy of the original band by acknowledging their tradition while continuing to push beyond existing boundaries into new musical landscapes.
"It's really a thrill," McLaughlin says of Shakti's 50th anniversary plans. "I'm delighted to be part of this marvelous tradition of the Shakti group."
"This group is everything that I could possibly imagine in a music offering," concludes Hussain. "As far as I'm concerned, it is the pinnacle, the musical nirvana of my musical career."
The World tour kicks off in India on January 20th, 2023, and will continue to Europe and America in Summer and Fall.
Stay tuned over the next couple of months on album release date, tour schedules, support acts, special guests and much more.
Outside Food & Beverage are not allowed for this event. You are allowed to bring one factory-sealed plastic bottle of water (1 per person). No glass/cans/flavored water.
Our Concession stands will be open selling a variety of food and beverages.
SEE MENU
Restaurant partners will also be available if you'd like to pre-order food and have it waiting for you when you arrive! Check out our Picnic in the Park Partners!
We pride ourselves on bringing a wide variety of events to Cary, NC! What our guests are allowed to bring into each event varies from event to event. Please review each event page before attending each event!
Guests can bring the following items to Concerts:
Small Clutch Purses no larger than 4.5" x 6.5"
12" x12" x 9" Clear bags only
Factory-sealed plastic bottles of water (1 per person).

No glass/cans/flavored water

Empty reusable non-glass water bottle up to 1 Liter.

Water Fill Stations located in the Cobblestone Courtyard

Lawn chairs:

No Footrest, Canopy, Lounge, Tri-Fold or Swinging Chairs.
Please remove chair from bag at security checkpoint.

Rain Coats
Ponchos
Strollers(Allowed on the lawn only)
All small clutches & clear bags are subject to search.
Prohibited items MUST be returned to guests' vehicle before entering.
Please leave the following items at home:
Alcohol
Audio & Video Recording
Bags (Unless clear & approved size)
Backpacks
Balloons, Banners & Signs
Blankets, Towels, Mats of any kind including Yoga Mats
Brochures/Stickers/Handouts
Confetti/Glitter
Coolers
Drones
Fireworks
Food & Beverages
Go Pros, Audio or video recorders
Grills & Open Flames
Hula Hoops
Illegal Drugs
Laser Pointers
Noise Makers
Pets of any kind (Approved Service Animals Allowed)
Professional cameras with detachable lenses
Selfie Sticks
Sporting Equipment
Tables of any size
Tablets of any kind
Tarps & Plastic sheeting
Tents/Staking
Umbrellas of any size
Wagons/Carts
Weapons of Any Kind (Include but not limited to knives, guns, tasers, chains, mace, studded/spiked jewelry)
PREMIERE PARKING: A limited number of Premiere Parking will be available for $25 in advance and will be sold at the event, if spaces are available. Parking spaces will be held closest to the Main gate. Pass entitles 1 car to cark in Premiere Parking section in the FRONT of the Preferred Lot.
PREFERRED PARKING: A limted number of Preferred Parking will be available for $20.00 in advance and will be sold at the event, if spaces are available. Parking spaces will be held across from the Main gate. Pass entitles 1 car to park in the Preferred Parking section in the BACK of the Preferred Lot.
Parking passes may be purchased at the box office in person, by phone through Etix or online at etix.com.

Parking lots open 1 hour before venue gates open.
Purchasing a Parking Pass is NOT a ticket for the event, and is not valid for entry into the event.
Please present your Parking Pass upon arrival.
GENERAL PARKING: Koka Booth Amphitheatre has approximately 1500 free spaces available. Parking is free of charge in Amphitheatre-owned lots. Some local businesses may charge a fee for parking in their lots.
ACCESSIBLE PARKING: A limited number of accessible parking spaces are available on a first-come-first-served basis with the proper hang tag or license plate.
DROP OFF & PICK-UP LOCATION: If using a taxi, Uber, etc please follow the signs & our Parking Staff to the pick-up & drop-off area.
Signup now to receive SMS updates for weather alerts and information on events you're attending.