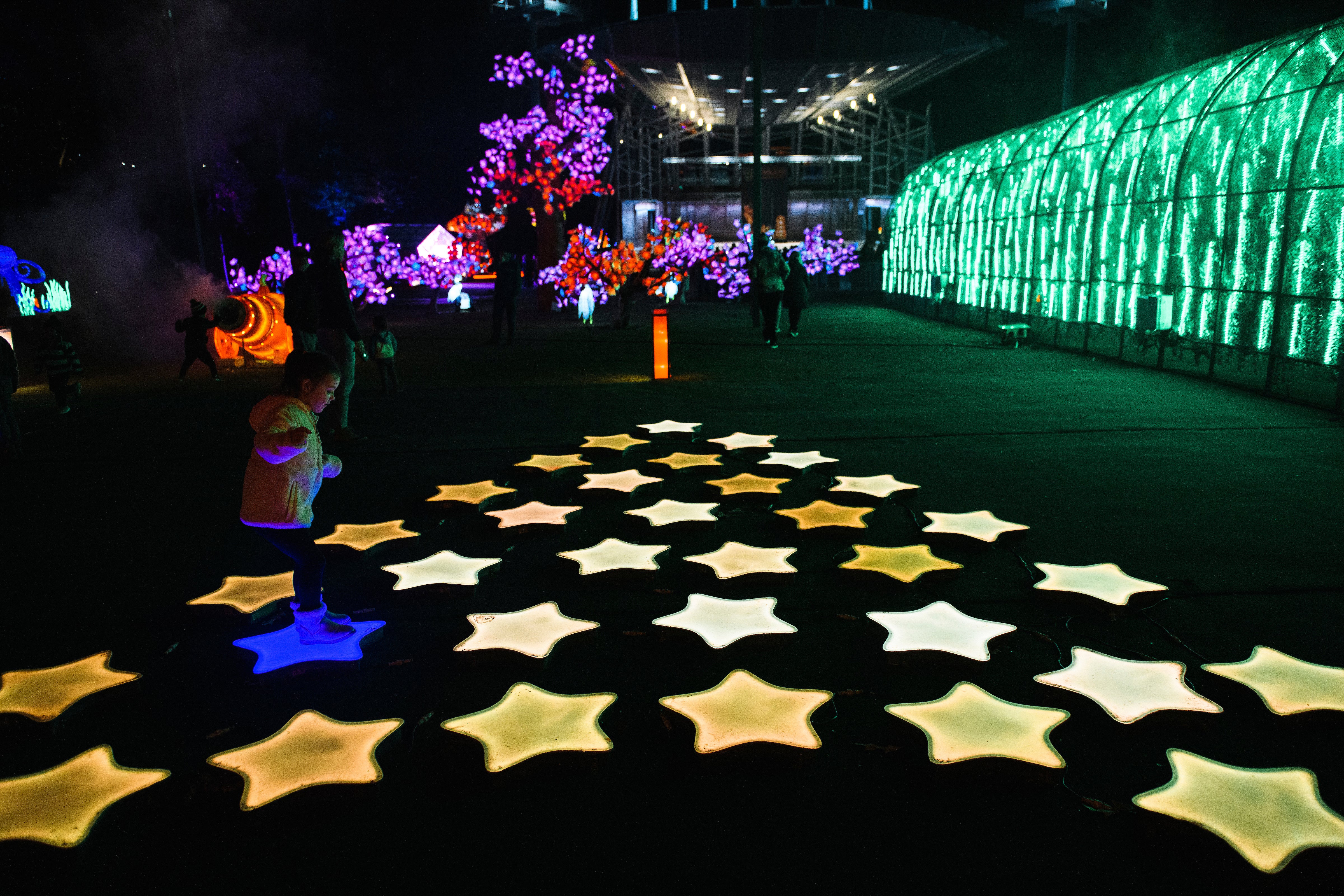 The North Carolina Chinese Lantern Festival Sensory Friendly Night
Presented by We Rock The Spectrum Cary
The North Carolina Chinese Lantern Festival Sensory Friendly Night
Presented by We Rock The Spectrum Cary
Event Information
Cary, NC- Cary's Koka Booth Amphitheatre is pleased to announce that for the first time ever, the NC Chinese Lantern Festival will offer a Sensory Friendly Night Tuesday December 6, 2022 proudly presented by "We Rock the Spectrum Kids Gym".
The evening will provide a welcoming environment for individuals on the autism spectrum as well as those with sensitivity issues or developmental disabilities. This Sensory Friendly Night will include lower decibel music, decreased capacity, no strobe or flashing lights, as well as access to designated Quiet Areas to decompress from sensory overload. The festival is proud to align with "We Rock the Spectrum" to make this night special for all who attend.
According to Ryan van Biljon and Jessica Floyd, "We Rock the Spectrum-Cary & Raleigh", finding a way to make events like this accessible to all helps broaden the mission they strive for on a daily basis. "We Rock the Spectrum - Cary is proud to be partnering with Koka Booth Amphitheatre on bringing this magical event to our Autistic community. This year's first-ever sensory-friendly night will make the event accessible to many in our community who have sensory sensitivity, bringing more inclusion to this longstanding local event, and we are thrilled."
For all other Date Specific, Twilight or VIP sessions Sensory Kits and a designated Quiet Area will be available as well.
The North Carolina Chinese Lantern Festival runs from November 18 – January 8 and will include close to 40 all new displays, each one comprised of hundreds of parts, and thousands of LED lights. These larger-than-life lanterns will captivate visitors with amazing craftmanship and artistic beauty. Cultural arts performances will take place each night on the main stage.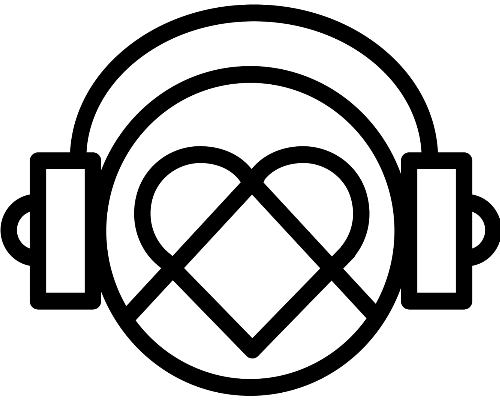 Accessibility Information
Koka Booth Amphitheatre strives to provide a positive experience for all guests. Our goal is to facilitate accessibility on our website and mobile site to better allow patrons to learn about events and purchase tickets with ease.
Planning on visiting our venue for this event and need to take advantage of our Accessibility Services? Let us know your needs by filling out the form below!
ACCESSIBILITY ASSISTANCE
If you have difficulty using or accessing any element of this website or the Koka Booth Amphitheatre mobile site, please feel free to call us at 919-462-2025 or email us at info@boothamp.com. We will work with you to provide the information, item, or transaction you seek through a communication method that is accessible for and consistent with applicable law.
FEEDBACK
Please contact us at 919-462-2025 or email us at info@boothamp.com if you have any feedback or suggestions as to how we could improve the accessibility of this website.
More information may be found HERE.
Additional Ticket Information
DATE SPECIFIC (6PM SESSION):
TICKET PRICES
SUNDAY-THURSDAY PRICES:
Ages 13 & Up:
$16.00* in Advance of the night you attend.
$18.00* if purchase on the night you attend.
Kids 2 & under are free and do not need a ticket.
Ages 3-12:
$11.00* in Advance of the night you attend.
$13.00* if purchase on the night you attend.
Kids 2 & under are free and do not need a ticket.
DISCOUNTED Seniors 55+, Military Family & College Students:
$13.00* in Advance of the night you attend.
$15.00* if purchased on the night you attend.
Please provide a valid ID to receive this discount.
Kids 2 & under are free and do not need a ticket.
Only offered Sunday - Thursday. No discounts apply on Friday, Saturday or Holidays.
TWLIGHT TICKET (4:30PM SESSION):
$25.00* for ages 13+
$15.00* kids ages 3-12.
Kids 2 & under free, and do not need a ticket.
No discounts available. Tickets are date specific.
Limited Availability each night offered.
ANY NIGHT tickets are NOT Valid for this experience.
* Prices listed do not include convenience fees.
*Tickets for Booth Amphitheatre events are subject to applicable taxes and fees. Unless otherwise stated, posted prices include a 7.25% NC Sales & Use tax.
To expedite entry into the festival, we recommend packing as light as possible. We encourage guests to leave bags/purses at home.
Look for our "No Bag line" at the main entrance.
Types of bags allowed:
Small Clutch Purses no larger 4.5" x 6.5"
Clear Bags no larger than 12" x 12" x 9"
Medical, Parenting, & Camera Bags
All bags are subject to search.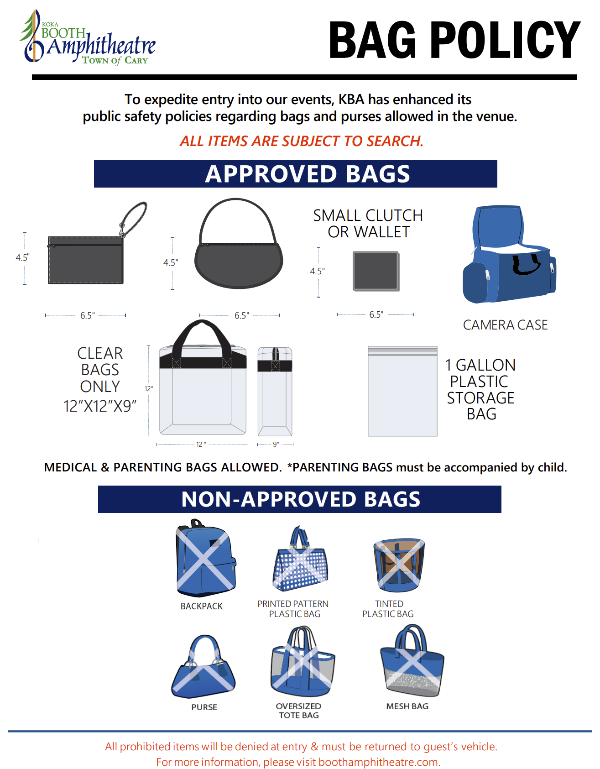 ​
NOVEMBER 18, 2022 - JANUARY 8, 2023:
Monday - Sunday 4:00 pm - 9:00 pm
We strongly encourage purchasing tickets in advance. Tickets may not be available on the day/night of the event. 
For this event, guests are NOT allowed to bring in outside food & beverages (Except factory-sealed bottled water - No Glass bottles or containers of any kind).
Visit the Crescent Cafe' for delicious food and an assortment of beverages. We have many of your standard favorites like hot dogs, pretzels, and curly fries but also some new items inspired by guest requests. We're excited to feature a few Asian inspired eats including the Bon Chon Korean Chicken Sandwich, Crispy Spring Rolls, Sweet & Sour Chicken Bites (meat-free option available) and Sneaky Heat & Sweet Donut Holes. In the spirit of the season, we're also offering warm gingerbread with whipped cream. Top off one or more of these items with a yummy hot chocolate, plain or spiked, before or after your walk through the lanterns.
Concessions will be open selling a variety of food and beverages during each event. Please click HERE to learn more about our delicious offerings.
The North Carolina Chinese Lantern Festival returns to Koka Booth Amphitheatre for its 7th year in Cary. More than 2,500 lanterns create our 36 all-new displays showcasing the beauty and artistry of Chinese culture in an authentic multi-cultural experience that has become a popular holiday tradition for families. Lanterns are handcrafted by Chinese artisans who live in our community during the festival. Visitors won't want to miss this year's new interactive lantern displays and the return of the spectacular floating Dragon on Symphony Lake. Bring the family as festival admission includes nightly Chinese acrobatic performances.
Did you know?
The ancient art of Chinese lantern making began in the Han Dynasty (206 BC to 220 AD), a significant period for science and innovation. Each year during Chinese New Year, families view colorful lanterns to symbolize respect and prosperity.
Our community is host to more than 25 Chinese artisans and performers who arrive in North Carolina in early November to hand assemble lanterns and prepare for exciting Chinese cultural performances during this annual celebration.
The North Carolina Chinese Lantern Festival is produced by Tianyu Arts & Culture, Inc., in cooperation with the Town of Cary.
Only the select communities of Seattle, Oakland, Oklahoma City, Little Rock, and suburban Orlando join Cary as hosts to Tianyu-produced Chinese lantern festivals during this holiday season.
Fast Facts
The spectacular Chinese Dragon floating on Symphony Lake is longer than three school buses at approximately 200 feet. It stands 21 feet high and weighs 18,000 pounds.
Fun fact: its head was installed by a crane with a 15-person crew!
Each lantern is created by hand on silk fabric stretched over steel frames and then lit with upwards of hundreds of LED.
Lanterns are designed exclusively for this event with materials shipped from China into the North Carolina Ports in Wilmington.
It takes 15+ tractor-trailers to deliver materials for our visiting artisans to assemble this year's 36 lantern groupings.
Most lanterns are made in only one city: Zigong, in the Sichuan province, the lantern capital of China for many centuries.
Our visiting artisans have lantern-crafting skills that are passed down from one generation to the next.
Most traditional Chinese lantern festivals are celebrated on the 15th day of the first month in the lunar calendar, marking the last day of the lunar New Year. This tradition dates back 2000 years.
In ancient times, lanterns were fairly simple and only the emperor and noblemen had large, ornate ones. In modern times, lanterns have been embellished with complex designs such as the ones on display here in Cary.
The prominence of red in the designs symbolizes good fortune in the new year.
Instagram: @booth_amp; @NCChineseLanternFestival | Facebook: @BoothAmphitheatre; @NCChineseLanternFestival Share photos by tagging us and including #CaryNC #NCChineseLanternFestival
Media Resources + Teresa Franzen – Publicist, Booth Amphitheatre | teresa@boothamp.com | (919) 210-5150
Scott Misner – Publicist, Tianyu Arts & Culture | smisner@misnercorp.com | (919) 412-3886
William Lewis – Cultural Arts Manager | william.lewis@townofcary.org | (919) 462-38
To expedite entry into the festival, we recommend packing as light as possible.
We recommend no bags. However, if bags must be brought in:
Clear Bags no larger than 12" x 12" x 9"
Medical, Parenting, & Camera Bags
Small Clutch purses no larger than 4.5" x 6.5"
All bags are subject to search.
Guests are welcome to bring the following items:
Factory Sealed Bottled water (2 per person - No glass/canned or flavored water)
Cameras, tripods & selfie sticks
Tablets
Blankets
Raincoats
Ponchos
Strollers
Scooters & Wheelchairs
Umbrellas
Please Note: All guests pass through metal detectors for most events. If metal detectors are not in use, security will be wanding individuals.
Prohibited items will need to be returned to the guest's vehicle before entering.
Please leave the following items at home:
Alcohol
Backpacks
Bags (Unless clear & approved size)
Balloons, Banners & Signs
Brochures/Stickers/Handouts
Confetti/Glitter
Coolers of any kind
Drones
Fireworks
Food & Beverages (Except Bottled water)
Glass Bottles of any kind
Grills & Open Flames
Illegal Drugs
Laser Pointers
Lawn chairs.
Mats of any kind, including yoga mats
Noise Makers
Pets of any kind (Excluding service animals)
Purses larger than 4.5' x 6.5"
Sporting equipment
Tables of any size
Tarps, plastic sheeting
Tents/Stakes
Wagons/Carts
Weapons of Any Kind (Including but not limited to knives, guns, tasers, chains, studded/spiked jewelry)
PREFRRED PARKING: A limited number of preferred parking passes will be available in advance and the night of the event for $10.00 per car. When purchasing please make sure you are choosing the correct date you will be attending.
ACCESSIBLE PARKING: A limited number of accessible parking spaces are available on a first-come-first-served basis with the proper hang tag or license plate.
BUSES: Please contact us at 919-462-2025 ahead of time if your group is arriving on a bus of any size. We need to be able to plan to accommodate bus drop off, pick-ups & parking if needed.
Nightly performances take place on the main stage at 6:30 pm, 7:30 pm, and 8:30 pm!
The performances are the same each time and are included in the price of the ticket.
Tips on Planning Your Visit
We strongly encourage purchasing tickets before the night you choose to attend.
Lines & wait times may be longer to purchase tickets & to enter the festival on Weekends, Holidays & warm weather nights.
Please pack as light as possible when attending the festival.
Please review the items allowed & prohibited items prior to your visit.
Patrons will be walking through the venue to observe the light displays, however, there will be limited seating on the crescent deck for those who want to relax and take in the view!
Venue food & beverage stands will be open selling holiday treats.
Food Trucks will be on-site Friday & Saturday only.
It takes most guests about 45-75 minutes to view all the display
This event will go on Rain or Shine HOWEVER please visit our website, social media, or call our weather hotline 919-459-8332 in the case of extreme weather conditions and/or slippery road/surface conditions.
Patron safety is our top priority. In the best interest of our guests, we may decide to close on nights we feel walking conditions are unsafe.
We are unable to provide wheelchairs for patron use. You are welcome to bring your wheelchair or scooter to the event. Walkways are paved throughout the venue.