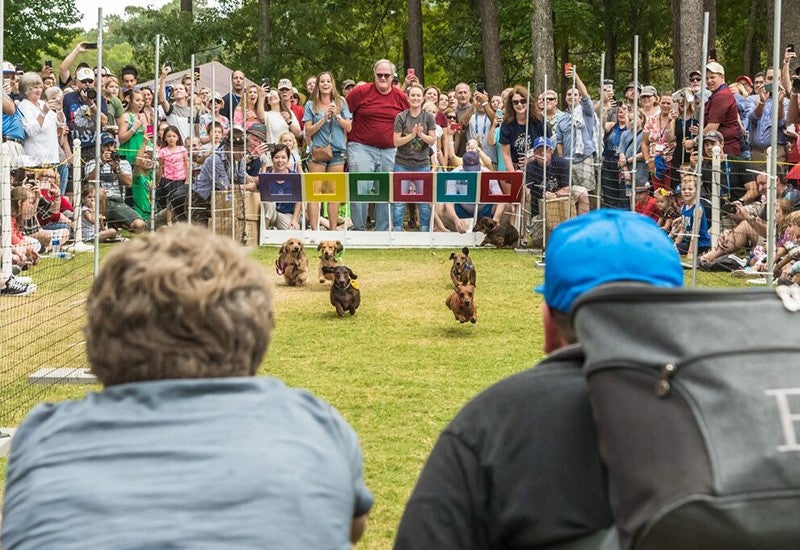 Triangle Oktoberfest
Triangle Oktoberfest
Event Information
THE COUNTDOWN IS ON! Join us for the 7th Annual TRIANGLE OKTOBERFEST at Koka Booth Amphitheatre on Friday, October 1st, and Saturday, October 2nd!
In keeping with the "Service above Self" mission, the Apex Sunrise and Cary MacGregor Rotary Clubs have again partnered together in collaboration with the Town of Cary to host the 7th Annual Triangle Oktoberfest at Koka Booth Amphitheatre. We have created the largest and most authentic German festival in NC to celebrate German culture in the Triangle and to support charitable organizations here in our community and abroad.
Live entertainment will showcase a mix of authentic German music and cover versions of contemporary songs, the most exciting Wiener Dog Races in NC, a kid-friendly (and parent-approved) Kinder Platz with inflatables and face painting. Masskrugstemmen (Stein Hoist) and Hammerschlagen (Hammer-Striking) competitions, the AutoBahn (German Car Display), and the Miss (and Mr.) Oktoberfest contest.
TRADITIONAL BAVARIAN BEER, FOOD, AND FARE
Souvenir mugs, authentic ceramic steins, Alpine hats, and more
Unlimited sampling glasses. Enjoy, but please drink responsibly.
Over 40 Beers including Hofbrau, Paulaner, Bitburger, Konig Ludwig Dunkel, Ayinger, and Spaten from Mὓnich, along with a host of seasonal Oktoberfest beers and favorites from local craft breweries
Traditional Bavarian food from Capital Club 16, Annelore's German Bakery, other local vendors, and, of course, fire-grilled Brats!
FACE COVERINGS:
Koka Booth Amphitheatre continues to make the safety of our guests and staff our highest priority. We continuously monitor and update our protocols based on federal, state, and local guidelines for preventing the spread of COVID-19. We also take into consideration the safety protocols and procedures requested by our visiting artists, promoters, and crews.
Masks are not currently required in outdoor settings in Cary but are strongly encouraged in situations where social distancing is difficult to maintain. Masks will be required when visiting the restroom facilities on-site, in accordance with local mandates for masking in indoor or enclosed spaces, so please bring your masks.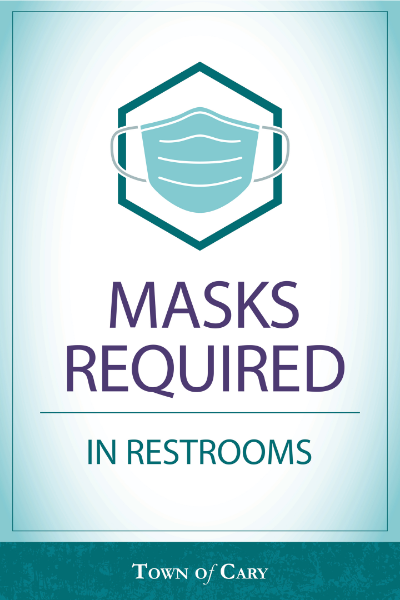 CLEAR BAG POLICY
Koka Booth Amphitheatre has enhanced its public safety policy to include a clear bag policy. Clear bags are easily searched and significantly reduce faulty bag searches. They also support the Department of Homeland Security's "If You See Something, Say Something" campaign. Our goal is to create a safe experience for all guests and staff.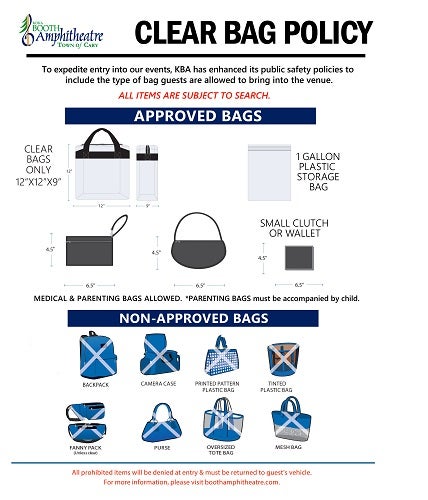 KIDS
Ages 16 & under are free for this event
TICKETS:
ALL PRICES WILL INCREASE BY $5 ON THE DAY OF THE EVENT.
Buy early and save!
Admission on Friday from 5:00 PM – 10:00 PM: General Public: $20.00*
Admission on Saturday ALL DAY from Noon to 8:30 PM: General Public: $25.00*
Admission on Saturday AFTER 4:00 PM: General Public: $20.00*
$5 discount is available on all tickets for seniors (60+) and military (with ID).
Ages 16 & under are free. NO tickets are needed.
*Prices do not include fees.
Must have a valid ID for 21 and older ID to purchase beer tickets.
Tickets may be purchased in person at Amphitheatre's Box Office. Limited hours available.
Tickets for Amphitheatre events are subject to applicable taxes and fees.
Parking & Ride Share Information
GENERAL PARKING:
Parking will cost $5.00 per car for this event. KBA is a cashless preferred venue. Credit & Debit cards will be accepted at all locations.
PREFERRED PARKING:
• Buying a Preferred Parking pass is OPTIONAL but will reserve you a space in our Preferred Parking lot across from the main gate.
• Preferred Parking passes are $15.00 in advance of the event or $20.00 on the day of the event. Spaces are limited.
RIDESHARE:
If using a taxi or Uber, please instruct your Uber, Lyft, or Taxi driver to follow the Drop off & Pick Up signs upon arrival.
Booth Amphitheatre prides itself on bringing a wide variety of events to Cary, NC! What our guests are allowed to bring into each event varies from event to event. Please review each event page before attending each event!
Guests can bring the following items to this event:
12" x12" x 9" Clear bags only.
Small Clutch purses no larger than 4.5" x 6.5 "
Factory-sealed plastic bottles of water (1 per person).

No glass/cans/flavored water

Empty reusable non-glass water bottle up to 1 Liter.

Water Fill Stations located in the Cobblestone Courtyard

Lawn chairs:

Please remove the chair from the bags at the security checkpoint.
(No footrest or Canopy. No Lounge or tri-fold chairs)

Rain Coats
Ponchos
Small non-professional cameras with no flash
Strollers
All small clutches & clear bags are subject to search.
Prohibited Items:
Balloons, Banners & Signs

Bikes/skateboards/Inline Skates

Blankets, Towels, Mats of any kind or Size
Brochures/Stickers/Handouts
Confetti/Glitter
Coolers
Drones
Fireworks/Sparklers of any kind
Food & Beverages
Go Pros, Audio or video recorders
Grills & Open Flames (inside or outside the venue)
Hula Hoops
Illegal Drugs
Laser Pointers
Pets of any kind (Unless it's a service Animal or A Weiner Dog register for the Races)
Professional cameras with detachable lenses
Selfie Sticks
Tablets of any kind
Tarps & Plastic sheeting
Tents/Staking
Umbrellas of any size
Wagons/Carts
Weapons of Any Kind (Include but not limited to knives, guns, tasers, chains, studded/spiked jewelry)
By attending the 7TH Annual Triangle Oktoberfest, you'll be supporting great causes including health, hunger, and humanity grants abroad, Leukemia & Lymphoma, Alzheimer's research, Western Wake Crisis Ministry, disaster relief, youth scholarships, and exchange, to just name a few. To date, the Triangle Oktoberfest Rotary Foundation, a local 501(c)(3) nonprofit, has contributed over $320,000 from the proceeds. For this year, we are excited to designate the U.S. Veterans Corps as our main beneficiary and charity partner.
For information on the U.S. Veterans Corps, visit https://www.myusvc.com. To learn about the Apex Sunrise and Cary MacGregor Rotary Clubs, visit www.apexsunriserotaryclub.org and www.carymacgregorrotary.org.
BEER & FOOD:
Please note, all beer & food will be purchased inside the event and may not be purchased in advance.
Beer Samplers: $25.00 for unlimited 5-ounce tastings.

All beer, wine, and brats must be purchased with tickets available for sale at the designated ticket tables for $6 and can be purchased via cash or credit card.

Soft drinks, water, hot dogs, and chips are also available for purchase.

All other food can be purchased directly from the vendors.
The Box Office be open 2:00pm-8:00pm Friday Oct 1 and will be open 11:00am-7:00pm on Saturday Oct 2.
Entry & Security Screening
All guests pass through metal detectors for most events. If metal detectors are not in use, security will be wanding individuals.
All bags are subject to search. Please see our Clear Bag Policy under "Venue Policies" above.
Pets are NOT allowed for this event unless it is a service animal or a wiener dog entered in for the Wiener dog races.