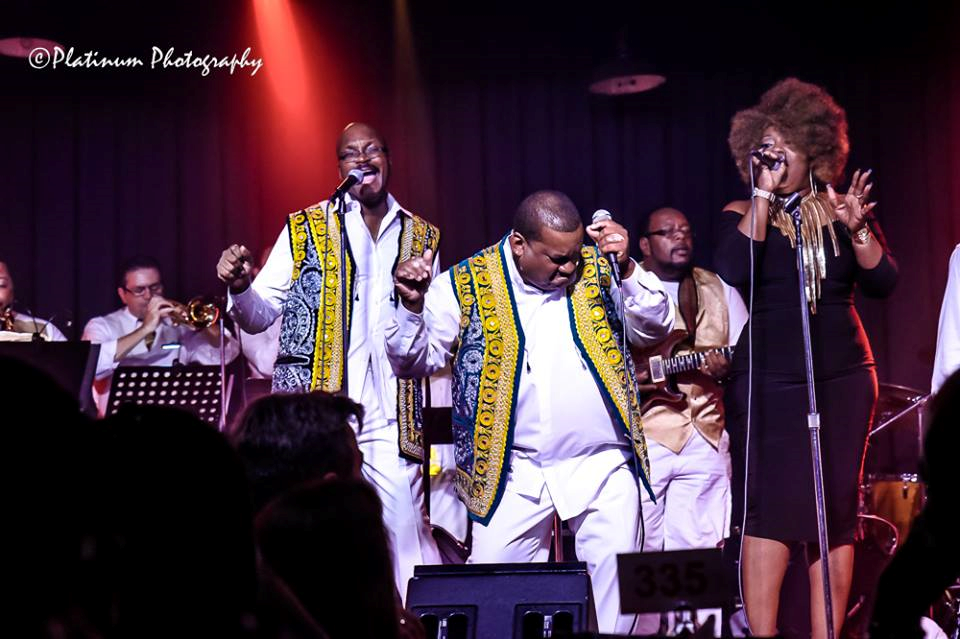 In Gratitude: A Tribute to Earth, Wind and Fire & Motown Soul and more
Tribute to Legends Weekend
In Gratitude: A Tribute to Earth, Wind and Fire & Motown Soul and more
Tribute to Legends Weekend
Event Information
Rhythms Live presents In Gratitude: A tribute to Earth, Wind and Fire along with Motown Soul and more!
Saturday, July 17th at 8:00PM
Reserved Gold Circle Tables (Front Table): Located in front of the stage, are 6 seat tables & 4 seat pub tables. These tables have no overhead cover, and the whole table MUST be purchased.
General Admission Lawn: Located behind the Gold Circle Tables. General admission lawn is first come first served.
Reserved Crescent Deck Tables (Deck Tables): Located behind the lawn pods are a limited number of 6 seat tables & 4 seat pub tables. Tables are covered by a roof, and the whole table MUST be purchased.
Early Bird pricing available now, for a limited time only! This is a limited capacity event.
*All dates, times, acts & prices are subject to change without notice.
A small fee will be added to the prices when paying by credit or debit card. Cardholder must be present with a valid photo ID when paying at the venue Box Office with a credit or debit card.
Tickets for Koka Booth Amphitheatre events are subject to applicable taxes and fees. Unless otherwise stated, posted prices include a 7.25% NC Sales & Use tax.
All events are rain or shine.
Rain coats and ponchos are allowed for all events. Umbrellas are not allowed for most events. Please check the Items Allowed/Prohibited on the specific event page you are attending to see if umbrellas are allowed.
In the event of severe weather conditions (thunder/lightning, etc.) announcements will be made from the stage concerning the status of the event due to weather conditions. We ask all patrons to remain calm and listen for these announcements.
Information will be posted on the Amphitheatre Facebook and Twitter pages, at www.boothamphitheatre.com or call our weather Hotline at 919-459-8332 for updates before & during the event.
In the event of a weather delay please listen for the air horn in the parking lot as signal it is safe to re-enter the venue. Please keep your ticket & have it ready when re-entering the gate. Venue policy is no refunds or exchanges in the event of rain.
IN GRATITUDE: A Tribute to Earth, Wind and Fire pays homage to one of the most prolific musical ensembles in history. Earth, Wind & Fire--2019 Kennedy Honors recipient and recognizing 50 years as a musical powerhouse--is celebrated around the world.
IN GRATITUDE: A Tribute to Earth, Wind & Fire features a 13 piece ensemble that annually sells out venues throughout the area paying tribute to the masters with their authentic musical presentation, exciting stage show and traditional and unique vocal interpretations offering EWF classics like Can't Hide Love, That's the Way of the World, Let's Groove, Reasons, Shining Star, Serpentine Fire, Getaway, September and so many others. IN GRATITUDE is comprised of musicians who have performed and recorded with internationally renowned artists—Prince, Whitney Houston, Teddy Pendergrass, Nancy Wilson, Phyllis Hyman, Chuck Brown, The O'Jays, George Clinton and more. At every show, IN GRATITUDE: A Tribute to Earth, Wind & Fire offers a presentation that brings audiences of all ages to their feet as they take a nostalgic journey through the past and emerge transformed—soul-filled and funk-ified!
MOTOWN Just the name evokes sounds and images of a past musical era full of great artists, classic songs, smooth choreography and exciting stage shows. Well, it's not all gone.

THE LEGACY LIVES brings it all back with an ensemble of today's most talented artists. Vocalists Vic Frierson, Karen Linette, Gene McBride, Deborah Poole-Williams and Micah Smith -- each phenomenal in their own right--come together with exquisite harmonies to recreate classics and develop new musical arrangements. Since 2014, Motown & More has become a popular production in the Baltimore/Washington/Virginia region.
GENERAL PARKING: Parking is free of charge in Amphitheatre owned lots. Some local businesses may charge a fee to parking in their lots.
ACCESSIBLE PARKING: A limited number of accessible parking space are available on a first come first served basis with the proper hang tag or license plate.
DROP OFF & PICK UP LOCATION: If using a taxi, Uber etc please follow the signs & our Parking Staff to the pick up & drop off area.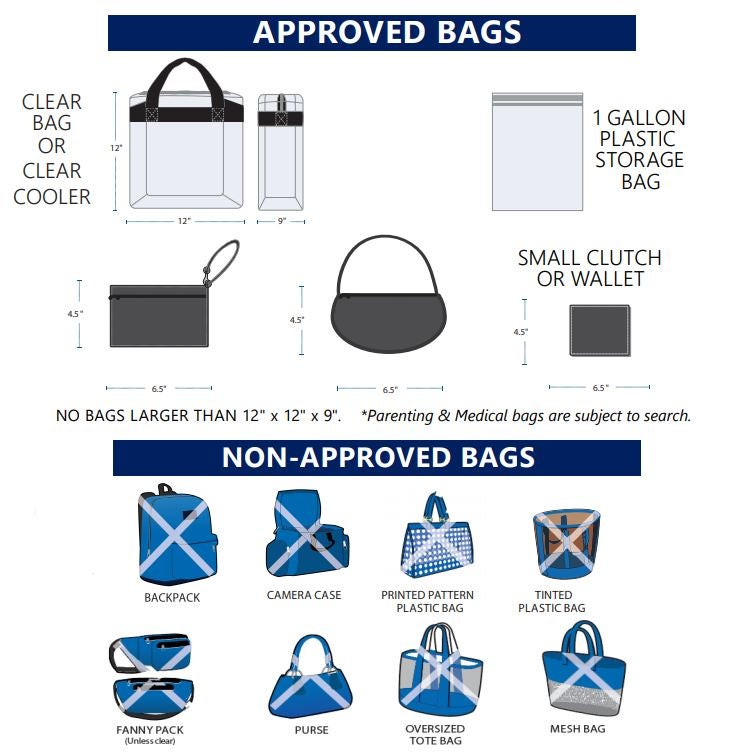 12" x12" x 9"

Clear bags only.

1 Bottle of factory sealed water.

Empty re-usable non-glass water bottle up to 1 Liter.

Lawn chairs: Please remove chairs from bags at security checkpoint. (No footrest or Canopy. No Lounge or tri-fold chairs)

Small Clutch purses no larger than 4.5" x 6.5 "

Rain Coats & Ponchos

Small non-professional cameras with no flash

Strollers(Allowed on the lawn only)
All bags are subject to search.
Alcohol
Balloons, Banners & Signs
Bikes/skateboards/Inline Skates
Blankets, Towels, Mats of any kind or Size
Brochures/Stickers/Handouts
Confetti/Glitter
Coolers
Drones
Fireworks/Sparklers of any kind
Food & Beverages
Go Pros, Audio or video recorders
Grills & Open Flames (inside or outside the venue)
Hula Hoops
Illegal Drugs
Laser Pointers
Pets of any kind (Unless it's a service Animal)
Professional cameras with detachable lenses
Selfie Sticks
Tablets of any kind
Tables of any kind
Tarps & Plastic sheeting
Tents/Staking
Umbrellas of any size
Weapons of Any Kind (Include but not limited to knives, guns, tasers, chains, studded/spiked jewelry)
Venue concession stands will be open serving a variety of food and beverages. If Food trucks are scheduled we will post on our website 48 hours before the event.
Picnic in the Park: Order Food!
Let us pack your picnic! Pre-order food and have it waiting for you when you arrive!
Our virtual Café offers a variety of food items from Pizza Hut, Lowes Foods and Taziki's Mediterranean Café. Please notice the cutoff time to order your food listed on each partners menu.
Children 2 & under are free on the lawn for this event.
Tickets are required for Children 2 and under for the reserved seating areas when applicable even if they will sit on an adult lap.
Re-Entry is not allowed for this event. Leaving the amphitheatre and re-entering is only permitted in weather related or medical emergencies. If you have a request for re-entry, contact an event staff supervisor at the gate prior to leaving.
All seating available is either general admission lawn, or reserved tables on the crescent deck or in gold circle.
Table purchases MUST be purchased in their entirety and may not be divided.
Tickets may not be sold or transferred to anyone other than family/trusted aquantances who have chosen to attend the event together.
Children 2 & under are free and do not require a ticket. Please include anyone ages 3 & older when purchasing tickets.
Violation of these policies will void tickets and parties will be asked to leave the venue with no refund.
Koka Booth Amphitheatre will follow local masking mandates and CDC guidelines in order to present a safe environment for all event attendees and staff members.
Koka Booth staff, vendors, and volunteers will continue to wear masks.
While we continue to recommend patrons wear a face covering while entering, exiting, and moving about the venue, it is no longer a requirement.