Hum Sub Diwali 2022
October

8

/ Saturday

10:00 AM
Event Information
PLEASE NOTE: KOKA BOOTH AMPHITHEATRE IS A CASHLESS VENUE.
Hum Sub is delighted to announce that Cary Diwali will henceforth be known as Hum Sub Diwali (HD); continuing to bring high-quality entertainment to everyone. Enjoy a fun-filled day of sumptuous food and high-octane entertainment celebrating Diwali the Festival of Lights with your family. Mark your calendars for Saturday, October 8 and watch for updates on https://www.humsub.org.
ADMISSION IS FREE TO THE PUBLIC
Koka Booth Amphitheatre is proud to support Hum Sub, Inc. To find out more about this wonderful organization click HERE.
Additional Ticket Information
FREE ADMISSION:
General Admission Entry is FREE for this event, as always - no ticket is needed just to enter the venue.
Seating before 4:30pm:
It is a free seating policy for everyone from 10am-4:30 pm (except the VIP-designated area).
Ticketing Information (seating after 4:30pm):
Starting 4:15pm (or a little earlier), the event ushers will ask everyone to vacate their seats to ensure only paid patrons and seniors with wristbands occupy the seats. Your cooperation is greatly appreciated.
A Limited number of General Admission Reserved seats will be available in front of the stage. A ticket will be required to sit in this area for everyone (except VIPs and seniors) starting at 4:30pm.
Event will go on-sale Friday, September 30 at 12:00pm.

$20.00 GA Reserved for ages 3-64. LIMITED AVAILABLE.

Children 2 & under are free in the GA Reserved Seating area but MUST sit on a lap.

Tickets are good all day long
Senior Seating:
Note: Hum Sub is thrilled to announce free seating for seniors!!! First time ever!! Limited seats.
Seating for seniors (ages 65 & older) is free, but a wristband will be required. Except for the VIP-designated area, seniors can sit anywhere. A government-issued ID (soft or hard copy) is required to obtain a wristband. No advance booking is allowed - no exceptions! LIMITED AVAILABLE.

Paid companion ($20) allowed if senior(s) need assistance
When and where to get the senior bands:
Senior bands will be made available starting at 12pm. These can be picked up at the registration desk in front of the stage (right of the stage while looking at it) with a valid government-issued ID.
Where to get the tickets:
The Koka Booth box office will be open all day to sell GA reserved seating tickets throughout the day.
Online prices with fees will be $26.70 per ticket + a $2.50 order fee.

Box office Price is $20.64.

Box office hours are Wednesday-Friday 12pm - 5pm. Day of event (10/8) hours will be 10am - approx 8pm (we will stay open later if needed). Visit https://www.boothamphitheatre.com/events-tickets/box-office for more information.
VIP wristbands:
Sponsors, grantors, town dignitaries, Hum Sub board of directors (BoDs and select ex-BoDs) and their families would be expected to occupy the seats in the VIP-designated area. Sponsors and grantors would need to show the letter of invitation from Hum Sub to the registration desk in front of the stage (right of the stage while looking at it) to obtain wristbands.
Koka Booth Amphitheatre has enhanced its public safety policy to include a clear bag policy. Clear bags are easily searched and significantly reduce faulty bag searches. They also support the Department of Homeland Security's "If You See Something, Say Something" campaign. Our goal is to create a safe experience for all guests and staff.
Small clutch purse or wallet no larger than 4.5" x 6.5" (about the size of a hand).
Clear bag that does not exceed 12" x12" x 9".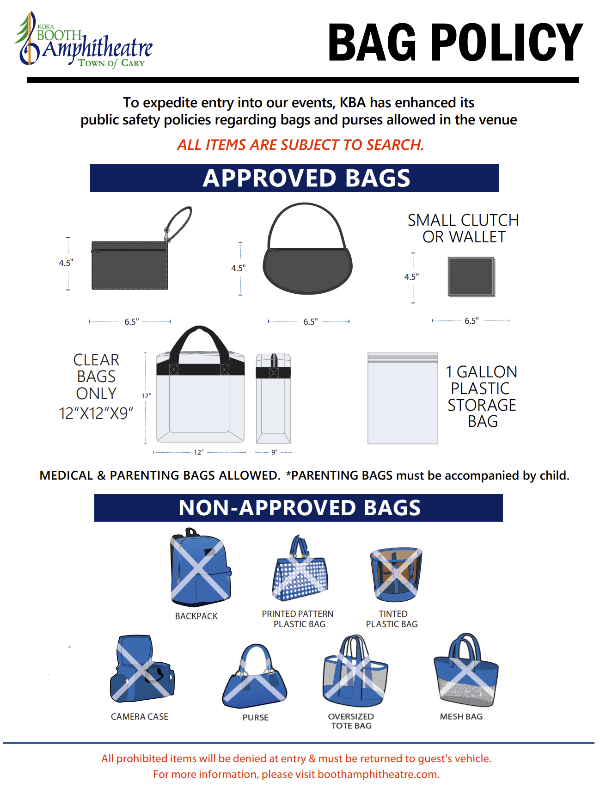 KOKA BOOTH AMPHITHEATRE IS A CASHLESS VENUE.
Credit & Debit cards will be accepted at all point of sale.
ATMs will not be on-site.
Outside Food & Beverage are not allowed for this event. You are allowed to bring one factory-sealed plastic bottle of water (1 per person).

No glass/cans/flavored water.

Food & Beverage vendors will be onsite selling a variety of food.
We pride ourselves on bringing a wide variety of events to Cary, NC! What our guests are allowed to bring into each event varies from event to event.
Please review each event page before attending each event!
Guests can bring the following items to Festivals:
12" x 12" x 9" Clear bags only.

All items must fit in clear bags.

Small Clutch purses no larger than 4.5" x 6.5 "
Plastic Factory sealed bottled water (1 per person)

No glass/cans/flavored water

Blankets & Towels
Lawn chairs:

Please remove lawn chair from bag at security check point
No lounge or tri-fold chairs.
No footrest or canopy.

Raincoats & Ponchos
Strollers
Tablets
Reusable bottles

Water fill statins available in the Cobblestone Courtyard.
All allowed bags & coolers will be searched.
All patrons will walk through metal detectors.
Prohibited items MUST be returned to the guest's vehicle before entering.
Please leave the following items at home:
Alcohol
Backpacks
Bags of any kind
Balloons, Banners & Signs
Brochures/Stickers/Handouts
Confetti/Glitter
Coolers
Drones
Fireworks
Food & Beverages
Glass/Canned/Flavored Water
Grills & Open Flames
Illegal Drugs
Laser Pointers
Mats of any kind including yoga mats
Noise Makers
Pets of any kind (Excluding service Animal)
Sporting equipment
Tables of any size
Tarps, Plastic sheeting
Tents/Stakes
Wagons/Carts
Weapons of Any Kind (Include but not limited to knives, guns, tasers, chains, mace, studded/spiked jewelry)
Parking Information ($7.00 per car)
Koka Booth Amphitheatre is a cashless venue. All locations accept Credit & Debit cards.
PREFERRED PARKING: A limited number of PREFERRED parking spaces are available for $20.00 on the day of the event.
GENERAL PARKING: Parking is $7.00 PER CAR in Amphitheatre-owned lots. Some local businesses may charge a fee for parking in their lots as well.
ACCESSIBLE PARKING: A limited number of accessible parking spaces are available on a first-come-first-served basis with the proper hang tag or license plate. Parking is $7.00 PER CAR.
DROP OFF & PICK-UP LOCATION: If using a taxi, Uber, etc please follow the signs & our Parking Staff to the pick-up & drop-off area.