Collective Soul and Switchfoot
Event Information
Koka Booth Amphitheatre is a cashless venue. Less time in line, more time for fun.
Join Collective Soul and Switchfoot in a co-headlining event on September 7th for a night of hits!
Additional Ticket Information
Tickets starting at $55.00
Children 2 and under are free on the lawn for this event and do not need a ticket.
All ages will require a ticket when sitting in Reserved Areas and GA PIT.
Day of Event Box Office sales opens 1 hour prior to gate time and closes once the main act takes the stage.

Hours are subject to change.

Taxes: Tickets for Koka Booth Amphitheatre events are subject to applicable taxes and fees. Unless otherwise stated, posted prices include a 7.25% NC Sales & Use tax
Fees: When ordering Online or by Phone through Etix additional fees will be added on top of the ticket price. A $2.50 order fee will be added to each order.

Purchasing in person at the Box Office a 3% credit card fee will be added to the ticket price.

Koka Booth Amphitheatre is a cashless venue.
All dates, times, acts & ticket prices are subject to change without notice.
Koka Booth Amphitheatre has enhanced its public safety policy to include a clear bag policy. Clear bags are easily searched and significantly reduce faulty bag searches. They also support the Department of Homeland Security's "If You See Something, Say Something" campaign. Our goal is to create a safe experience for all guests and staff.
Small clutch purse or wallet no larger than 4.5" x 6.5" (about the size of a hand).
Clear bag that does not exceed 12" x12" x 9".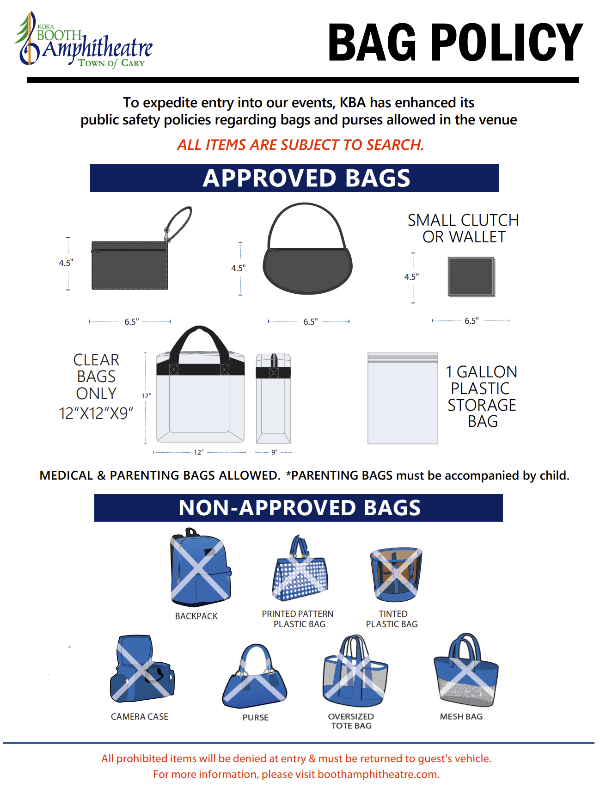 It's probably (well, definitely) somewhat of an understatement to say Collective Soul frontman and chief songwriter Ed Roland is unwaveringly driven in his desire to double down on doing more of what he does best — making music, sweet music, both in the studio and onstage.
"People ask me if I have a hobby, but for me, it's just music," Roland confirms. "I mean, I don't know what else to do, because that's what I love to do. I live in the studio — but then the time comes when I go, 'Well, now I wanna go play live.' I just love the creation of music, and the process of finding out what's gonna happen with it next. That kinda defines it all for me."
In following his ever-tenacious muse, Roland is always looking to connect with his current Collective Soul bandmates any which way he can. Actually, the word current is a bit of a misnomer, since Roland truly believes the Collective Soul of the here and now is as permanently intertwined as any group of musicians he's ever worked with over the course of his illustrious career. "It's worth noting See What You Started by Continuing was really the demo for this band as it stands right now," Roland points out, referring to the 2015 album that realigned the rock quintet's creative compass. "I mean, this is the band for the rest of my life. This is it, man."
Indeed, if a) 2015's aforementioned See What You Started by Continuing was the reset blueprint for how a revamped and revitalized five-man lineup fully gels as a unit, and b) 2019's Blood was the ensuing coagulant further infused by an in-tune rock ensemble clearly firing on all corpuscles, then c) Collective Soul's upcoming, long-awaited 2022 album release Vibrating simply sends the band's artistic spirit into the next stratosphere.
"Our fans have already picked up on that," agrees Roland, "because they've been waiting for Vibrating for almost three years now — and I can't wait for them to hear it. They're excited because both See What You Started and Blood set such a high standard for where we're going as a band — and it's only going to continue getting better with Vibrating. I really do believe that."
You can believe it too, for the proof lies within the new album's deeply delineated grooves. Fact is, Vibrating positively pulsates with the boundless energy that has been Collective Soul's aural calling card for going on three full decades. From the propulsively gnarly kiss-off of "Cut the Cord" to the reflective midtempo jangle of "Take" to the heart-wrenching reality check of "Rule #1" — replete with a soaring string section, no less! — to the choir-backed emotional crossroads of "Where Do I Go," Vibrating contains 42 minutes of irrefutable sonic evidence of a band wholly uninterested in sitting still. "I think we're on a roll," observes Roland. "We're not afraid to stretch the boundaries — but we do know how to stay in our lane when we need to. Sometimes, though, we just have to go faster."
The next logical acceleratory step, of course, resides in taking Vibrating out on the road where the band belongs, and test-driving how this electrifying new material meshes with indelible Collective Soul setlist classics like "Shine," "December," "The World I Know," "Gel," "AYTA," "Why, Pt. 2," "Precious Declaration," and "Heavy" — in addition to more recent, Blood-spawned tracks like "Right as Rain," "Observation of Thoughts," and "Over Me."
"We're ready to go," declares Roland. "Most of us grew up together and knew each other as kids, so that helps with the live chemistry. I've always said this about this band — we know when to knock each other out, and we know when to hug each other. We won't put up with any crap, but if you're feeling down and need help, we'll pick you up. We're coming up on 30 years as a band, so we have to be friends first and foremost to keep it all going. If we aren't friends like that, then we're not going to have longevity in our career in order to continue doing what we love to do. That's just the bottom line."
Seeing eye to eye, and ear to ear, is part of the secret sauce of why Collective Soul continues to both record and play together at an uncompromised level of high quality. "That's the end goal for everybody in this band," agrees Roland. "Just because I write the songs doesn't mean I'm the only one who wants it all to come out right. We all want it to be right — and that's because this is a band that acts like a band."
Working in tandem, sharing unbridled opinions, and listening to what everyone else has to say without recrimination are all key proponents in fostering Collective Soul's perpetual harmony. "That's the forte of this band," Roland acknowledges. "We discuss things together, we figure them out together, and we make sure to get everything right. That's how we love to do it. And I say this out of confidence, and not out of ego — we're really, really good at it, too."
You'll get no arguments here. As 2022 unfurls, it's clear heaven continues to shine its light down on Collective Soul, a formidable five-man band humming along in unison with many more good vibrations of their own to share with the masses far and wide. There's a reason Collective Soul are made for me and you — so be sure to see and hear them for yourself first-hand, the next time they make their presence known in your neck of the woods. —Mike Mettler, official Soulographer
SWITCHFOOT has sold almost 10 million copies worldwide of their eleven studio albums (including their 2003 double-platinum breakthrough The Beautiful Letdown and 2009's Grammy Award-winning Hello Hurricane), racked up a string of Alternative radio hit singles, and performed sold-out tours with over 5 million concert tickets sold in over 40 countries around the world. SWITCHFOOT has raised over $2 million dollars to aid kids in their community through their BRO-AM Foundation. Through their unique blend of emotionally intelligent and uplifting brand of alternative rock, SWITCHFOOT has earned a devoted and loyal global fan base. SWITCHFOOT consists of Jon Foreman (vocals, guitar), Tim Foreman (bass), Jerome Fontamillas (keys, guitar) and Chad Butler (drums).
Collective Soul Gold VIP Package
Ticket limit per order: 4
Available ONLINE only
Package Includes:
One (1) GA

PIT

Ticket

One (1) Meet & Greet and Photo Opportunity with Collective Soul

One (1) Collective Soul Merchandise Package designed exclusively for Gold VIP purchasers.
If you have any questions regarding your VIP package elements, or have not received your package information within three days (3) of the concert date, please email info@237global.com.
Outside Food & Beverage are not allowed for this event. You are allowed to bring one factory-sealed plastic bottle of water (1 per person). No glass/cans/flavored water.
Our Concession stands will be open selling a variety of food and beverages.
SEE MENU
Restaurant partners will also be available if you'd like to pre-order food and have it waiting for you when you arrive! Check out our Picnic in the Park Partners!
We pride ourselves on bringing a wide variety of events to Cary, NC! What our guests are allowed to bring into each event varies from event to event. Please review each event page before attending each event!
Guests can bring the following items to Concerts:
Small Clutch Purses no larger than 4.5" x 6.5"
12" x12" x 9" Clear bags only
Factory-sealed plastic bottles of water (1 per person).

No glass/cans/flavored water

Empty reusable non-glass water bottle up to 1 Liter.

Water Fill Stations located in the Cobblestone Courtyard

Lawn chairs:

No Footrest, Canopy, Lounge, Tri-Fold or Swinging Chairs.
Please remove chair from bag at security checkpoint.

Rain Coats
Ponchos
Small non-professional cameras with no flash
Strollers(Allowed on the lawn only)
All small clutches & clear bags are subject to search.
Prohibited items MUST be returned to the guest's vehicle before entering.
Please leave the following items at home:
Balloons, Banners & Signs
Bikes/skateboards/Inline Skates
Blankets, Towels, Mats of any kind or Size
Brochures/Stickers/Handouts
Carts/Wagons
Confetti/Glitter
Coolers
Drones
Fireworks/Sparklers of any kind
Food & Beverages
Go Pros, Audio or video recorders
Grills & Open Flames (inside or outside the venue)
Hula Hoops
Illegal Drugs
Laser Pointers
Pets of any kind (Unless it's a Service Animal)
Professional cameras with detachable lenses
Selfie Sticks
Sporting Equipment
Tablets of any kind
Tarps & Plastic sheeting
Tents/Staking
Umbrellas of any size
Wagons/Carts
Weapons of Any Kind (Include but not limited to knives, guns, tasers, chains, studded/spiked jewelry)
Preferred Parking will be sold on site on the day of the event if spaces are available for $20.00.
Parking lots usually open 1 hour before venue gates open.
This is NOT a ticket for the event, and is not valid for entry into the event.
This is a Preferred Parking pass. 1 pass per car.
Parking Pass must be presented to parking attendant upon arrival into the Preferred Parking Lot.
Preferred parking lot is located across from the main gate and Box Office.
GENERAL PARKING: Booth Amphitheatre has approximately 1500 free spaces available. Parking is free of charge in Amphitheatre-owned lots. Some local businesses may charge a fee for parking in their lots.
ACCESSIBLE PARKING: A limited number of accessible parking spaces are available on a first-come-first-served basis with the proper hang tag or license plate.
DROP OFF & PICK-UP LOCATION: If using a taxi, Uber, etc please follow the signs & our Parking Staff to the pick-up & drop-off area.
Switchfoot VIP Experience
Get into the venue early, enjoy a private performance & soundcheck experience with SWITCHFOOT and take home some collectible goods!
Available ONLINE only!
Package Includes:
One (1) GA PIT TICKET

Private Switchfoot Performance/Sound Check Access

Photo w/ Switchfoot by our band photographer *(

in compliance with local and venue guidelines).

Early Entrance to the venue (where applicable and with a valid ticket)

One (1) Switchfoot Merchandise Package designed exclusively for VIP Experience purchasers which includes:

VIP Laminate

Autographed Poster

imited Edition Tote

Collector's Pin Set

Limited Edition Button Pack

Limited Edition Sticker

Limited Edition Wristband
VIP EXPERIENCE INFO & FAQ:
https://switchfoot-merch.myshopify.com/pages/vip-experience-faqs
Have more questions? Email: sf.vip.experience@switchfoot.com
IMPORTANT COVID-19 INFO:
This VIP EXPERIENCE will comply with all local and venue guidelines and VIP details are subject to change based on those guidelines.