Pickin' In The Pines Music Series
Sunday evenings this fall just got a whole lot more fun! Gather with friends at Cary's Koka Booth Amphitheatre for the Pickin' in the Pines Concert Series presented by Connie Fenner State Farm Agency.
Shows will take place Sunday evenings starting August 29th - September 26th and feature local and regional talent from 4:00 PM - 6:00 PM.
Venue-owned parking lots offer free parking and are filled on a first come first serve basis.
Gates open at 3:00 PM

Music from 4:00 PM-6:00 PM
Dogs on leashes are allowed for this event.
FACE COVERINGS:
Koka Booth Amphitheatre continues to make the safety of our guests and staff our highest priority. We continuously monitor and update our protocols based on federal, state, and local guidelines for preventing the spread of COVID-19. We also take into consideration the safety protocols and procedures requested by our visiting artists, promoters, and crews.
Masks are not currently required in outdoor settings in Cary but are strongly encouraged in situations where social distancing is difficult to maintain. Masks will be required when visiting the restroom facilities on-site, in accordance with local mandates for masking in indoor or enclosed spaces, so please bring your masks.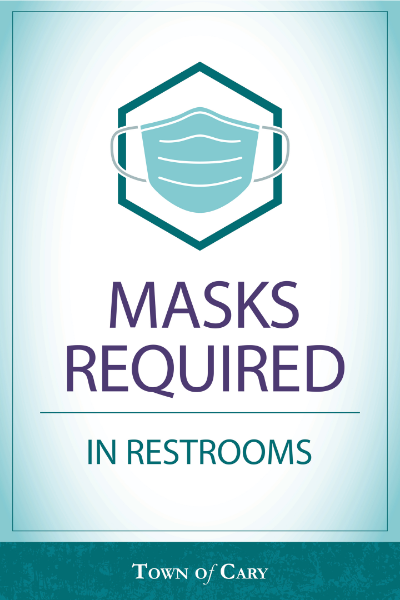 CLEAR BAR POLICY
Koka Booth Amphitheatre has enhanced its public safety policy to include a clear bag policy. Clear bags are easily searched and significantly reduce faulty bag searches. They also support the Department of Homeland Security's "If You See Something, Say Something" campaign. Our goal is to create a safe experience for all guests and staff.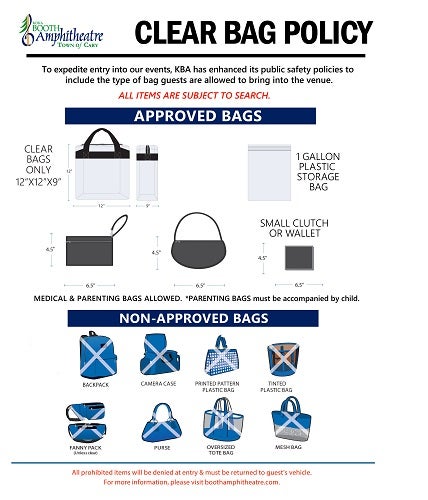 RE-ENTRY
Re-Entry is allowed for this event. If you have a request for re-entry, contact an event staff supervisor at the gate prior to leaving.
CHILDREN
Children 12 & under are free on the lawn for this event.
Tickets are required for ALL AGES for the reserved seating areas when applicable even if they will sit on an adult lap.
For this event, guests are allowed to bring in food, and non-alcoholic beverages. All items must fit in a clear bag or clear cooler no larger than 12 x 12 x 9.
Concessions will be open selling a variety of food and beverages during each event. You can see a list of offerings on our Food & Beverage Menu page.
Restaurant partners will be available to pre-order food and have it ready upon your arrival. Order from one of our Picnic in the Park partners!
SAVE BIG on all Pickin' in the Pines events!
$3 lawn ticket for groups 10 or more.
Please contact Jessica at [email protected] to purchase!
12 x12 x 9 Clear bags & Clear Coolers only. (One per person)
Breathable Blankets & Towels (No Nylon/plastic)
Food & Non-Alcoholic beverages ONLY. All items must fit in a clear bag or clear cooler max size 12 x 12 x 9.
All non-alcoholic beverages must be factory sealed.
Lawn chairs with no Bag. Please remove chairs from bags. (No footrest or Canopy. No Lounge or tri-fold chairs)
Small Clutch purses no larger than 4.5" x 6.5 "
Rain Coats & Ponchos
Strollers
Umbrellas
Refillable bottles (bottle fill stations are open at all water fountains)
Dogs on leashes are allowed for this event.
All bags are subject to search.
Alcoholic Beverages
Bags & Backpacks (Please see our clear bag policy)
Coolers (Unless it is clear, see our clear bag policy)
Drones
Fireworks/Sparklers of any kind
Frisbees, soccer balls, and all sporting equipment.
Go Pros, Audio or video recorders
Grills & Open Flames (inside or outside the venue)
Liquor
Mats of any kind, including Yoga mats
Tents/Staking
Tarps, Plastic, Blankets with Nylon or Non-Breathable material
Professional cameras with detachable lenses
Weapons of Any Kind (Include but not limited to knives, guns, tasers, chains, studded/spiked jewelry)
Picnic in the Park - Preorder Food!
We strongly encourage purchasing tickets online before the event. Tickets may not be available on the day/night of the event. 
Important Information Regarding Koka Booth Amphitheatre events:
Never throw away or delete your ticket until the event has ended.
Tickets may not be sold or transferred to anyone other than family/trusted acquaintances who have chosen to attend the event together.
Contactless Ticket Scanning & Payment Options -The venue ticketing system will allow for scanning without staff physically handling or touching tickets. Guests will now scan their own tickets at the gate.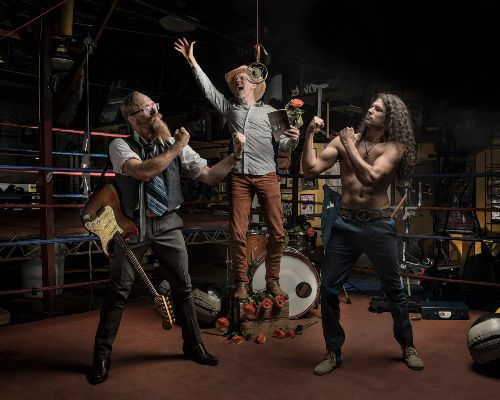 Pickin' in the Pines Music Series Presented by Connie Fenner State Farm Agency